A great hero of the Evangelical Church has died: Brother Andrew loved Jews, Arabs and the Persecuted Church and had a profound impact on our lives
His autobiography, "God's Smuggler," sold 10 million copies and inspired millions of Christians to live boldly for Christ
by Lynn A. Rosenberg | October 4, 2022
Photo: Open Doors International Ministry
JERUSALEM—Raising four sons in the comforts of suburban America caused me to look for heroes and heroic stories to inspire and shape the hearts of these future men. 
We were a homeschool family and I had the opportunity to read to our boys many great biographies and wonderful epic literature as part of our curriculum. 
One of those real-life heroes that made it deeply into our family's hearts was a Dutch Christian named "Brother Andrew." 
This hero of the faith died last week at the age of 94.
Having been so influenced by Brother Andrew – and having had the joy of meeting him over the years – I'd like to share some thoughts about his love for Jesus Christ, his devotion to the Word of God, his heart for the people of the Middle East, and his special passion for sharing the Gospel with Muslims.
"GOD'S SMUGGLER" – THE BOOK THAT INSPIRED US
Brother Andrew's most famous book was "God's Smuggler."
Published in 1967, it was an autobiography describing his testimony and his exploits smuggling Bibles through the Iron Curtain into the Soviet Union and Warsaw Pact countries of Eastern Europe.
The Communist governments had forced atheism on tens of millions of people against their will. They had banned the printing and distribution of the Bible and had effectively made it a crime to preach the Gospel and make disciples in obedience to God's Word.
Horrified by these policies, Brother Andrew made it his personal mission to load up his Volkswagen Beetle with as many Bibles as he could and try to sneak them into these Iron Curtain countries to distribute among the believers.
His book was a phenomenal success and went on to sell more than 10 million copies in English alone, as well as being translated into 35 languages.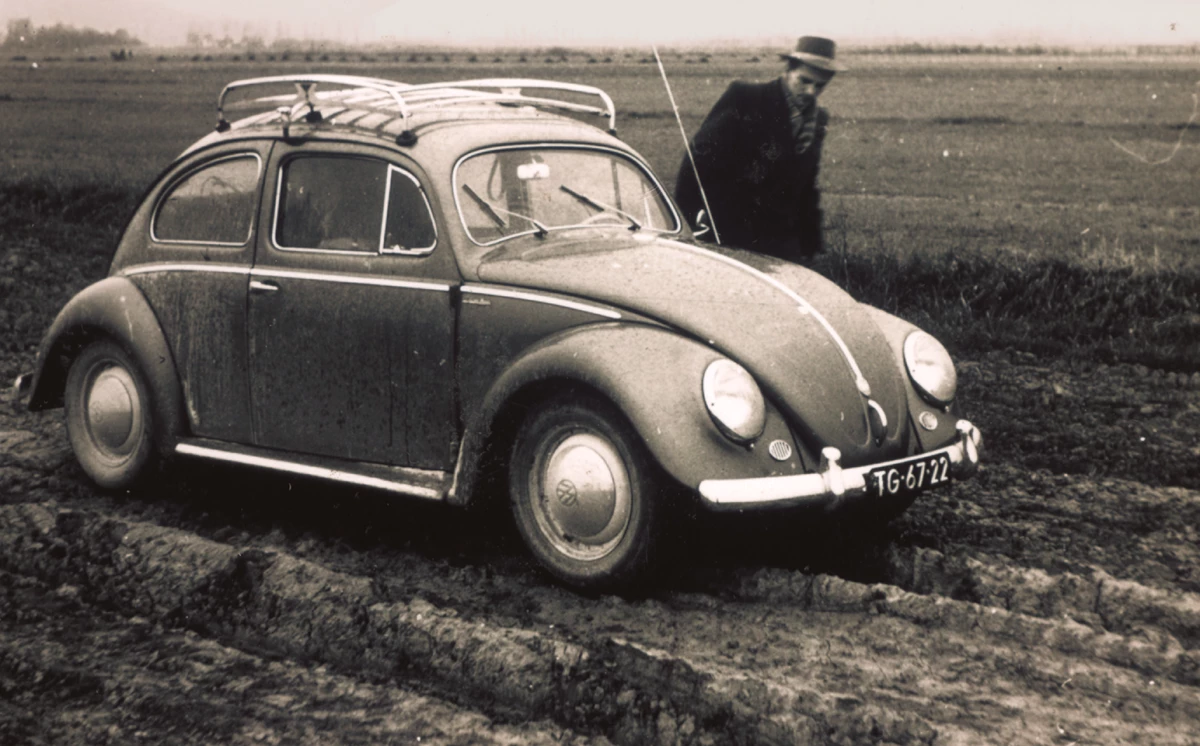 My husband, Joel, read "God's Smuggler" as a high school student, just as he was getting serious about his own faith in Christ, and it deeply shaped his life. 
Up to then, Joel's hero had been James Bond, the fictional British spy, having read most of the Ian Fleming novels and watched all of the Hollywood movies about him.
Now, Joel's new hero was Brother Andrew – a "James Bond for Jesus" – and he dreamed of taking risks for the Lord to strengthen followers of Jesus in distant lands.
In 1986, he got his chance.
During his freshman year at Syracuse University, Joel was invited by an international student ministry to smuggle Bibles into the Soviet Union, to meet Soviet college students, and engage them in conversations about Christ. 
Given his admiration for Brother Andrew, and the fact that Joel's paternal grandparents and great-grandparents had emigrated to the U.S. from Russia, Joel leapt at the opportunity. 
That summer, more than 300 Evangelical college students spread out across the U.S.S.R., bringing suitcases full of New Testaments and Christian literature in Russian. 
Joel and the team of three other students flew from JFK airport in New York to Vienna. Then they took a train into Czechoslovakia and finally into Ukraine, which was then a hostage province of Moscow.
At the Soviet border, soldiers armed with machine guns and German shepherds, checked passports and luggage.
A few teams that were traveling on the same train as Joel had their cache of Bibles discovered and taken away.
Fortunately, Joel and his team got their Bibles through undetected.
They traveled on to Moscow, then into three Central Asian republics, and finally back to Moscow to minister to as many Soviet students as they could, and to encourage Russian Christians when possible.
In one Muslim-majority city, Tashkent, Joel's team encountered one of the other teams whose Bibles had been confiscated.
Joel made a deal with them, trading some of his Bibles for their Pepto Bismol, since Joel and his team were suffering terribly with what they had dubbed, "Stalin's Revenge."
Almost 40 years later, Joel still laughs about that crazy trade.
Thinking of Brother Andrew almost every day that summer, Joel and his colleagues were thrilled to be deep inside of the Soviet empire, sharing the Gospel and praying for the Lord to bring down the Berlin Wall and the entire Communist system, and open hearts to Christ.
Twice that summer, they were interrogated by KGB officers and presented with a file containing confessions of some of the students they had shared with as well as the Christian literature they had given those students.
It was a sobering reminder of the perils of living in such an atheistic dictatorship.
WHO WAS "BROTHER ANDREW" AND HOW DID HIS MINISTRY BEGIN?
"Brother Andrew's" real name was Andrew van der Bijl.
He was born in Holland in 1928. 
He began using this nickname to keep his real identity secret from Communist government authorities who would have loved to have arrested him and stopped his Bible smuggling forever.
Every time Andrew would load up his Volkswagen bug with more Bibles to make another journey into the Eastern bloc countries, he would pray what became his most famous prayer, what he called "The Smuggler's Prayer."
"God, when You walked the earth you made blind eyes see. Now, I pray that you will make seeing eyes blind." 
Again and again, he drove through borders with his Bibles and materials sitting in plain view without getting them confiscated. 
Brother Andrew's life's work had started with a single trip to Poland in 1955 at the age of 27, where he met persecuted Christians. 
Though he grew up craving adventure, he did not embrace the Christian faith until adulthood. 
Andrew had been injured fighting in Indonesia for the Netherlands and was discharged from military service at the age of 21 in a poor state of moral, physical and spiritual health. 
Andrew had been introduced to the Gospel through the loving witness of his mother, who had died while he was overseas fighting. 
Other seeds of God's truth had been sown into his life by faithful friends. 
After fighting against God for years and leading a very lost life, he finally began reading the Bible that his mother had given him and visiting churches – sometimes three times a week – in the late 1940s. 
By 1950, his eyes were opened to the truth of the death and resurrection of Jesus Christ.
He asked Christ to come into his life and set him on a new path, describing his conversion like this is his biography, "There wasn't much faith in my prayer. I just said, 'Lord, if You will show me the way, I will follow You. Amen.'" 
He also explained that "I got the idea that the step I'd taken was along a well-traveled road." 
After studying English with friends in London, Andrew spent two years at a ministry training school in Scotland. 
In time, he felt that he should become an evangelist, sharing the good news of God's love and forgiveness with people who had never heard the Gospel, or had not yet said "yes" to God's free gift of salvation.
One day, his attention was captured by a magazine sitting on top of his suitcase in the school basement. It described a communist youth convention to be held shortly in Warsaw, Poland. 
He immediately sensed this was where he was meant to begin a ministry of bringing God's Word to those behind the "Iron Curtain" of communism. 
He visited six churches over the course of three Sundays, spent time with the owner of a Bible shop and handed out gospel leaflets all over town. 
As he prepared to leave, watching a parade of young Communists conclude their conference, God burned into Andrew's heart a verse found in Revelation 3:2: "Wake up and strengthen what remains and is about to die." 
Months later, he made his second trip behind the Iron Curtain, this time to Czechoslovakia followed by 50 days in Yugoslavia. 
Everywhere he went, he brought copies of the Bible and other literature. 
He listened, prayed, taught and encouraged. 
A PASSION FOR PERSECUTED CHRISTIANS – INCLUDING IN THE ARAB/MUSLIM WORLD
Over the course of more than five decades, Brother Andrew became a voice for the persecuted church. 
He believed that no door was closed if God wanted it open.
A man of great faith and prayer, he eventually walked through "open doors" to Africa, China, Cuba, and finally into the Muslim Middle East.
God gathered a team around him to join this work of strengthening the persecuted and isolated churches around the world, bringing them Bibles, and mobilizing Christians in the free world to pray for and encourage our brothers and sisters in closed countries.
Thus, a global ministry called "Open Doors" was established, and now operates in more than 70 countries.
Though his early work was in the Communist world, Brother Andrew's attention shifted over time to the Arab/Muslim world.
In the early 1970s, he was invited on a trip to Lebanon, which began an exciting and fascinating new chapter in his life.
He returned to Lebanon twice a year from 1975 to 1990. 
He traveled to Egypt.
Then here to Israel.
The West Bank.
And then into Gaza.
Once, Brother Andrew was even invited have dinner with several hundred Hamas leaders and to share with them why he not only loved Jews but also loved Muslims. 
That, he trusted, was another open door to share the Gospel of Jesus Christ, and boldly he did just that.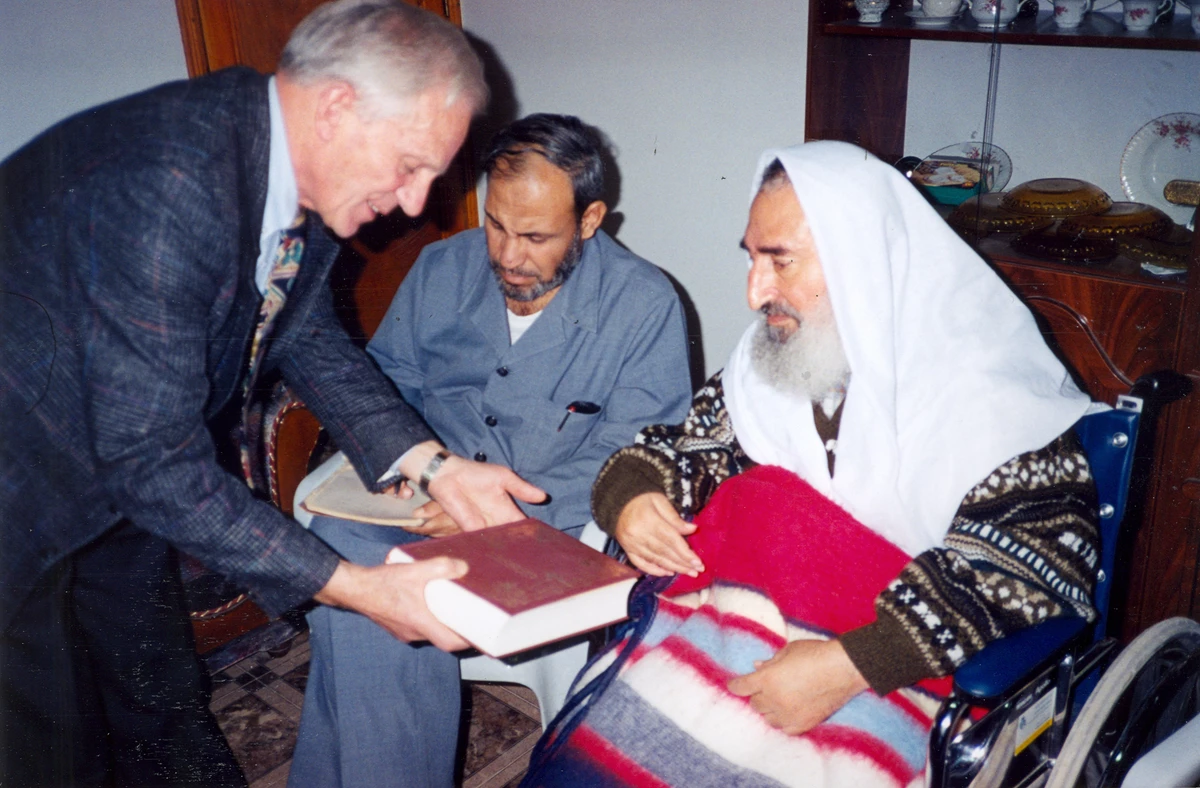 Working closely with his longtime friend, colleague, and staff writer, Al Janssen, Brother Andrew published a book in 2004 documenting the astonishing "open doors" he was finding among Muslims.
He titled it, "Light Force: A Stirring Account of the Church Caught in the Middle East Crossfire."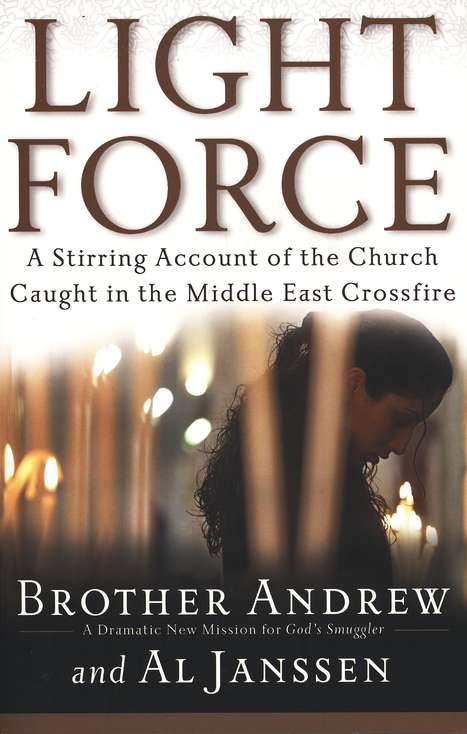 The publisher was kind enough to send us an early draft, which I voraciously read as I cared for our newborn fourth son in the middle of the night.
I loved it.
I loved Brother Andrew's courage to go where most of us would not.
His compassion for those who had never heard the Gospel of Jesus Christ and desire to at least give them a chance to hear and say "yes."
And his heart of comfort and encouragement for our brothers and sisters who suffer for the name of Christ.
MEETING OUR HERO
By God's grace, Joel and I got to meet Brother Andrew several times.
Once Joel was invited to speak at an Open Doors USA conference in California.
Carl Moeller, who was then the president of Brother Andrew's ministry in the U.S. (and now is executive director of our ministry, The Joshua Fund), invited us.
He and Joel were friends, and Carl had been one of those 300-plus young people who had smuggled Bibles into the Soviet Union in the summer of 1986.
Thrilled to attend, we brought our four sons and several young women from our church in northern Virginia.
I'll never forget the private lunch we had with Brother Andrew during the conference, amazed that we were sitting with someone we'd read so much about and who had become a true hero of faith to us.
We thanked him for how much he had inspired us and so many millions of Christians around the world.
We thanked him, too, for setting such a great example of loving both Jews and Arabs.
One of our friends took the opportunity to ask his advice about going into full-time ministry. 
As a single woman with a good job, trained as a nurse and fluent in Arabic as well as English, she was struggling with the decision.
She had been on many ministry trips, but just wasn't sure what God's calling was for her life. 
What advice or insight might Andrew have for her, she wondered? 
His answer was unemotional and brief, but not unkind. 
"So go," he said. 
That was it. 
With such darkness in the world, such suffering and loneliness, why wouldn't every Christian just "go," trusting God for each step of the adventure? 
In no small measure, Brother Andrew inspired us to serve the Lord more boldly in our lives.
In 2006, we started The Joshua Fund, a ministry "to educate and mobilize Christians to bless Israel and her neighbors in the name of Jesus" and to prayerfully find ways to strengthen both followers of Jesus in Israel as well as in the Arab world.
By God's grace, The Joshua Fund has gone on to invest more than $85 million in strengthening the Church in the region we call the "Epicenter," including distributing Bibles in the Arab world, and always looking for "open doors" to be ambassadors for Christ with the poor and the rich, the powerless and the powerful.
By God's grace, we also followed God's call on our life to make aliyah in 2014 – to become citizens of Israel, sell our home in the U.S., move to Israel as a family of six, and to encourage and strengthen Israeli and Palestinian followers of Jesus as much as possible.
In many ways, though not all, Brother Andrew shaped our view of our new country and neighborhood. 
When asked why he spent most of his time with Palestinians rather than Messianic Israeli believers, and whether that showed a bias against Israel, his answer was interesting.
"I am not pro- or anti-Israel," he said. "I am not pro- or anti-Palestinian. I am pro-Church, and my calling is to go where the Church is persecuted and struggling to survive. 'Strengthen what remains and is at the point of death' – that was God's message to me from Revelation 3:2 on my first trip to Poland in 1955. And the Palestinian Church is dying." 
Joel and I so appreciated Andrew's special heart for the Palestinian people, and the Palestinian believers.
Whenever he could, he met with Palestinian Evangelicals to encourage them.
He also met with Palestinian Muslim leaders, even radical and violent ones, always with the purpose of sharing the gospel of Jesus Christ and bringing God's Word to dark places. 
His willingness to pray for and meet with powerful people who in many ways opposed the gospel challenged our hearts. 
We had not always thought to pray for the salvation of our enemies.
And we're grateful to Brother Andrew for modeling this.