Afghan population facing severe poverty under Taliban rule
With international sanctions since Taliban takeover, 80% of nation's budget is in danger of drying up
by All Arab News Staff | December 30, 2021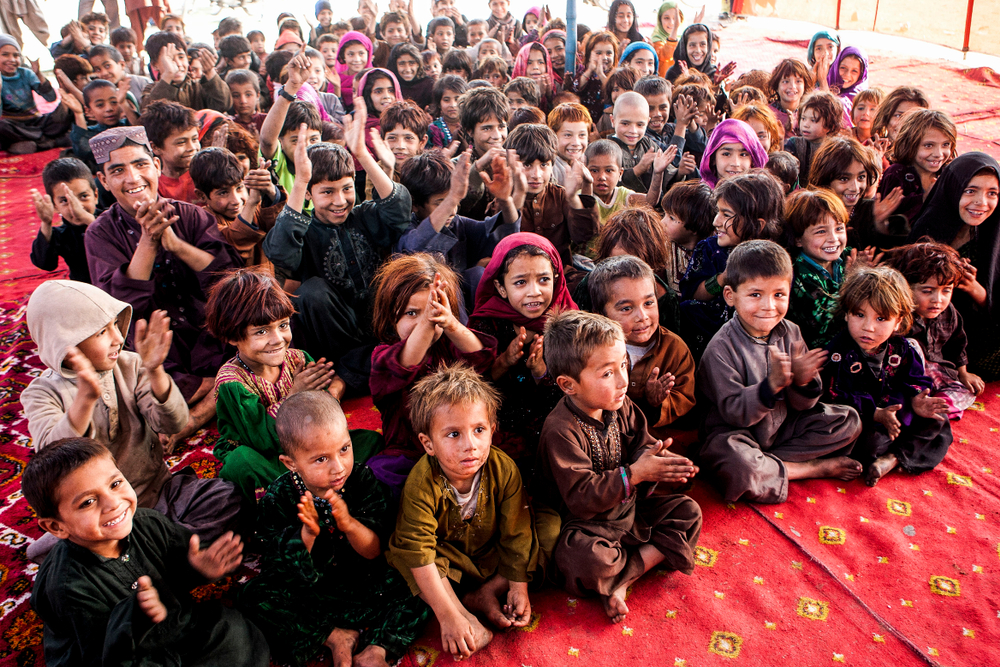 Illustrative - Afghan refugee children (Photo: Shutterstock)
As they brace for the cold winter ahead, Afghans have been gradually sinking into deep poverty since the Taliban takeover of Kabul on Aug. 15 following the chaotic retreat of U.S. troops from the war-devastated country. 
As one of the world's poorest countries, Afghanistan's economy had subsisted on international donations primarily from Western nations. Prior to the U.S. withdrawal as much as 80% of Afghanistan's pre-Taliban budget was provided by the international community. 
However, following the Taliban takeover, international funds have dried up and Afghanistan's economy is rapidly collapsing, causing a shortage of food and other basic supplies.
The World Health Organization warns that millions of Afghan children already suffer from malnutrition. The United Nations estimate that around 60% of the Afghan population – amounting to 24 million people – already face acute hunger. Almost 9 million Afghans currently suffer from severe famine and the dire humanitarian situation is deteriorating rapidly. 
In September, a published study by the UN's Development Program concluded that as many as 97% of the Afghan population could sink into poverty without the provision of urgent financial assistance from the international community. 
Kanni Wignaraja, UN Assistant secretary-general and UNDP director for Asia and the Pacific, presented a very bleak picture of the humanitarian situation in Afghanistan. 
"We are facing a full-on development collapse on top of humanitarian and economic crises. Half of the population is already in need of humanitarian support. This analysis suggests that we are on course for rapid, catastrophic deterioration in the lives of Afghanistan's most vulnerable people," Wignaraja said. 
While the Taliban seized control over Afghanistan in August, the fundamentalist Islamists are struggling financially under crippling international sanctions. The U.S. and UN are seeking to find solutions to provide hundreds of millions of dollars in humanitarian aid directly to the Afghan people, bypassing the Taliban regime. 
Unsurprisingly, many Afghans see no future in their own country and those with the means are trying to flee. Since the Taliban takeover, more than 300,000 Afghans have reportedly crossed into neighboring Pakistan. Approximately one third of Afghans have entered Pakistan on valid visas, while the majority are defined as illegal migrants. However, Pakistani authorities are increasingly putting pressure on Afghan refugees to return to Afghanistan.
"The rest of the 200,000 are illegal entrants and we are asking them to leave within 90 days as there is no crisis in Afghanistan," saidPakistan's federal minister for Information and Broadcasting, Fawad Hussain. 
Another escape route is via Turkey to eventually reach Europe. However, the journey from Afghanistan to Europe is longer, more dangerous and difficult with European governments preventing many Afghan migrants from crossing into the continent. 
In October, the UN High Commissioner for Refugees, Filippo Grandi, urged European Union member-states to accept more than 40,000 migrants from Afghanistan. However, they are unwilling.
"Half of the Afghan population is in the need of humanitarian assistance," said Ylva Johansson, EU commissioner for Home Affairs. However, European nations fear a repeat of 2015, when a record 1.3 million migrants sought asylum in Europe, the vast majority from Syria, Afghanistan and other Muslim-majority states.