AFTER THE WAR, NOW WHAT? Egyptian President el-Sisi deserves credit for persuading Hamas to stand down, but his $500 million pledge to rebuild Gaza could be trouble
Biden offers Gaza $338 million, Qatar pledges $360 million – compassion for Palestinians is noble and needed – but the last thing the world should do right now is look like they are rewarding Hamas for the war, or risking these funds going directly to Hamas who will use them to rearm
by Joel C. Rosenberg | May 21, 2021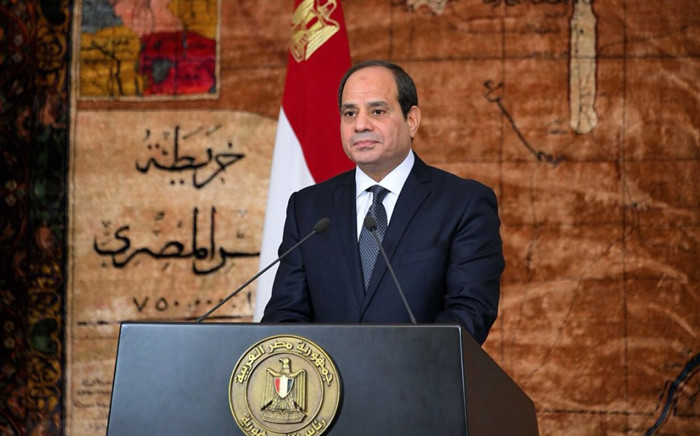 President Abdel Fattah el-Sisi. (Photo @AlsisiOfficial/Twitter)
After 11 days of intense fighting, a ceasefire between the Hamas terrorist organization and the State of Israel went into effect at 2:00 a.m. Friday morning local time.
Whether the agreement will hold remains to be seen.
Let's pray the answer is yes.
Now the world must be careful.
We want and need to show mercy and compassion towards the Palestinians of Gaza.
But the world must take great care not to do anything that would strengthen the Hamas terror regime.
Indeed, the last thing the international community should do is look like they are financially rewarding Hamas for ending the war, or risking reconstruction funds going directly to Hamas who will only use them to rearm and harden their position against peace and coexistence with Israel.
SUCCESS FOR SISI
That said, Egyptian President el-Sisi deserves enormous credit for persuading Hamas – and Islamic Jihad – to stand down and stop firing at Israeli civilian population centers.
This was a huge diplomatic success for Sisi, who rarely gets credit on the world stage for strongly opposing the radicals in the region and strengthening the forces of moderation.
Senior Egyptian intelligence officials were in direct and regular contact with Hamas leaders in Gaza.
Now, Sisi is sending two teams of military and intelligence officials to monitor the ceasefire – one to Gaza and one to Tel Aviv.
BIDEN PRAISES CAIRO
On Thursday night, President Joe Biden publicly praised the Egyptians for their hard and successful work.
"Earlier today, I spoke with President el-Sisi of Egypt," Biden told reporters. "You know, we've held intensive high-level discussions, hour by hour, literally – Egypt, the Palestinian Authority, and other Middle Eastern countries – with an aim of avoiding the sort of prolonged conflict we've seen in previous years when the hostilities have broken out."
"I extend my sincere gratitude to President el-Sisi and the senior Egyptian officials who played a critical role in this diplomacy," Biden added.
Biden was right to praise the Egyptian leader, but wrong to ignore him until now.
It is also important to note that this was the first phone conversation Biden and el-Sisi have had since Biden came into office.
Egypt is a vital American ally, and an essential player in fighting and neutralizing the forces of radical Islam in the region, and for advancing security and stability.
SISI PLEDGES $500 MILLION TO REBUILD GAZA
Cairo, however, wants to do more than end the violence.
They want to play an active role in pacifying the Gaza Strip, which Egypt once controlled but has become a hotbed of terrorism over the past several decades.
Sisi is now pledging a half-billion dollars to rebuild Gaza.
It is both a sign of his compassion for the devastated Palestinian population in the Gaza Strip, as well as his recognition that 100 million Egyptians watched the war closely and feel a deep kinship with the Palestinians and a deep anger – even hatred – toward Israel.
That's why aides to Sisi made sure the Egyptian media knew how many steps the government was taking to stand with the Gazan people.
Egypt Today published a graph detailing Cairo's moves.
Sisi allocates $500 million to reconstruct Gaza – specialized Egyptian companies will take part in reconstruction works.
Egyptian Health Ministry sends 65 tons of medical supplies that cost 14 million Egyptian pounds.
Egypt enhances blood supply in Suez Canal governates, which receive the injured Palestinians, by 330 blood bags and 1,827 plasma units.
11 hospitals in three governates are fully prepared to receive the injured Palestinians.
165 ambulance vehicles equipped with intensive care and ventilators were deployed to help the injured.
Rapid deployments teams, supported by doctors, were provided at Rafah land crossing [on Sinai-Gaza border].
A central operating room was formed to monitor medical services provided for the injured Palestinians.
(Source: Egypt Today)
QATAR PLEDGES $360 MILLION TO REBUILD GAZA
Egypt is not alone.
The government of Qatar – a strong financial and political supporter of the Muslim Brotherhood and Hamas, and home for numerous Hamas leaders – has pledged $360 million to help rebuild Gaza.
The pledge was made in January, well before, the war, but could very well be increased in the days and weeks ahead.
BIDEN PLEDGES $338 MILLION FOR GAZA
The Biden administration is also vowing to help.
"Last month, before the current unrest, the State Department committed $150 million to the United Nations Relief and Works Agency, which coordinates humanitarian aid for more than 5.7 million Palestinian refugees across the Middle East," the New York Times reported Thursday. "The Trump administration had stopped funding the agency in 2018, but Mr. Biden restored it in April."
"Elizabeth Campbell, the director of the agency's office in Washington, said the Biden administration had also previously committed to sending a second installment of aid, also around $150 million, later this summer," the Times noted, adding, "On Wednesday, the agency issued an emergency $38 million appeal to donors to provide food, first aid, mental health assistance and other needs to Palestinians in Gaza and the West Bank."
DANGER AHEAD?
As an Evangelical Christian commanded by Jesus to love my neighbor, and love my enemy, I, too, have compassion on the Palestinian people.
I, too, want to see the people of Gaza be able to heal emotionally, physically, and spiritually.
What's more, I would love to see Gazans be able to rebuild their lives and society and create far better, freer, safer and more prosperous lives for themselves.
But the U.S, Egypt, Qatar and the broader international community need to be very, very careful.
Yes, help the Palestinians rebuild.
But do not allow reconstruction funds to be received – or stolen – by Hamas.
Hamas has been severely weakened in this fight.
The world must do nothing to allow them to recover, rebuild and rearm.