AIPAC hosted national Muslim leader – Bahraini crown prince – for first time
Bipartisan congressional delegation was on hand to welcome crown prince in historic meeting
by All Arab News Staff | March 7, 2022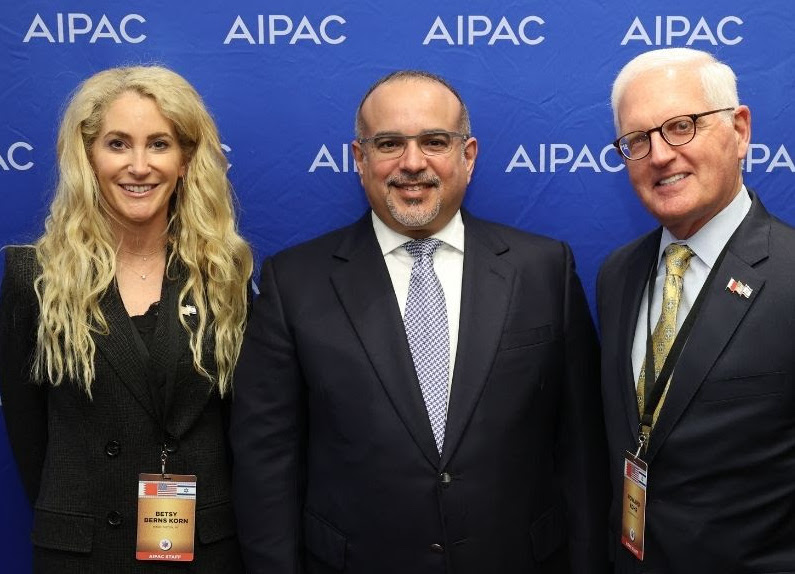 Bahraini Crown Prince and the Prime Minister Salman bin Hamad Al Khalifa at AIPAC, March 3, 2022 (Photo AIPAC)
The American Israel Public Affairs Committee hosted the head of a Muslim nation at its headquarters for the first time when Bahrain Crown Prince Salman bin Hamad visited Washington last week.
"This historic meeting is the first visit by a head of government from an Arab country to the AIPAC headquarters," AIPAC announced in a tweet on March 3.
The bipartisan U.S. members of Congress who attended the event included Debbie Wasserman Schultz, Lisa McClain, Brad Schneider, Mariannette Miller-Meeks, Josh Gottheimer, Carlos Gimenez, Ritchie Torres, Jake LaTurner, Nicole Malliotakis, Victoria Spartz and Jay Obernolte. 
Several bipartisan congressional delegations visited Israel in the past few weeks as well, including some of the representatives who attended the AIPAC meeting.
Hamad is also the prime minister of Bahrain and was joined by senior members of the Bahraini government, including Manama's foreign minister, ambassador to the United States, minister of Finance and National Economy and others.
"This remarkable event is a showcase of the growing bonds between the U.S., Israel and Bahrain, and underscores the unique role we play in advancing and expanding peace," AIPAC said.
After the announcement that Bahrain would join the United Arab Emirates in signing the Abraham Accords with Israel, AIPAC called it "another historic demonstration of a new promising era in Israeli-Arab relations." 
"We thank President (Donald) Trump and his administration for the determined diplomatic effort to help bring about the momentous breakthroughs in recent weeks as both the United Arab Emirates and Bahrain join Egypt and Jordan in paving the path to peace through recognition and engagement rather than by seeking to isolate and boycott the Jewish state," AIPAC said in a statement at the time. "These diplomatic achievements are a testament to the fact that a strong and secure Israel, backed by the United States, is critical to bringing reconciliation to the region. The old and unproductive paradigm of boycotts and 'rejectionism' is collapsing, and a new model of peace, prosperity and cooperation is emerging."  
"Now is the time for other countries in the region and the Palestinian leadership to embrace this model and cement new ties and forge lasting peace and security in the Middle East."