BACKLASH: Biden facing withering criticism from Democrats and Republicans over his surrender of Afghanistan and speech to the nation
New poll finds support for Biden's Afghan policy plunging 20 points
by Joel C. Rosenberg | August 17, 2021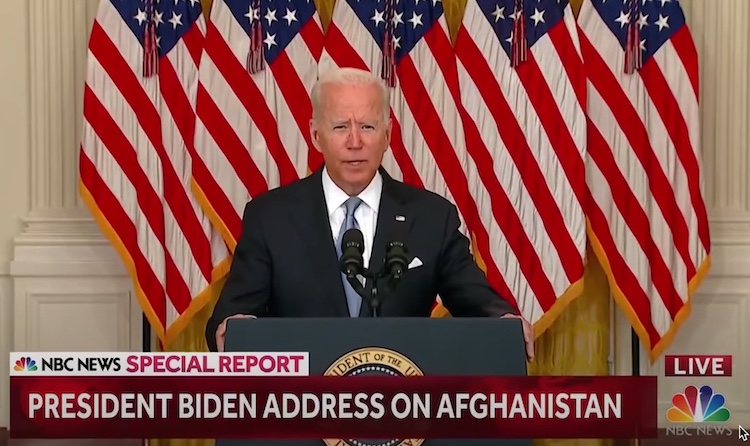 Photo: Screenshot from NBC News YouTube channel
WASHINGTON, D.C. – Joe Biden is bringing bipartisanship back to Washington.
But not in a way he intended.
Both Democrats and Republicans in Congress are suddenly unified this week in their furious reactions to the president's surrender of Afghanistan to the Taliban terrorists, and the speech to the nation that Biden gave on Monday.
Biden is facing withering criticism from leaders in both parties, as well as from prominent journalists in the mainstream media, as we reported yesterday.
What's more, a new poll finds support for Biden's Afghan policy plunging by 20 points.
THE SPEECH
At 4:02 p.m. Eastern time on Monday, Biden addressed the situation in Afghanistan from the East Room of the White House.
It was odd that he did not speak in prime time.
Most presidents deliver messages to the nation about war and peace at 9 p.m.
More than odd was that Biden doubled down on his Afghan policy, claiming he is doing the right thing, even as he admitted that the democratically-elected Afghan government is in the midst of a "rapid collapse."
"I stand squarely behind my decision," he said, though he conceded that "this did unfold more quickly than we had anticipated."
Biden showed no compassion for the millions of Afghan men, women and children who have been living in freedom for the past 20 years yet whose country is now being seized by the very same barbaric jihadists who brutalized them and enslaved them before the U.S. and our allies liberated them.
He did, however, take full responsibility for the policy and its catastrophic results: "I am president of the United States of America, and the buck stops with me."
DEMOCRATS BLAST BIDEN
Biden is now receiving rare but blistering criticism from fellow Democrats both for his Afghan policy and his speech.
"I'm left with some grave questions in my mind about his ability to lead our nation as commander in chief," said Ryan Crocker, who served as the U.S. ambassador to Afghanistan during the Obama administration and has worked under Democratic as well as Republican presidents. "To have read this so wrong – or, even worse, to have understood what was likely to happen and not care."
"I think it is damning for him [Biden] to have created this situation in his first significant action as commander in chief," Crocker said. "It's an unforced error, and as an American I am deeply concerned."
National Public Radio published a story Monday on its website headlined: "Congressional Reaction To Biden's Afghanistan Withdrawal Has Been Scathing."
The story noted that Sen. Tom Carper, the Democrat from Biden's home state of Delaware — a member of the Senate Homeland Security and Governmental Affairs Committee and a close ally of Biden — has issued a statement sharply criticizing the White House's approach.
"We cannot abandon those who fought by our side who now face mortal danger from the Taliban's takeover," Carper said. "We have a moral obligation to act immediately to protect their lives and a national security imperative to ensure that Afghan soil does not again become a source of terrorist attacks on our allies and our homeland."
Carper said the withdrawal of U.S. troops "should have been carefully planned to prevent violence and instability" and insisted that "we must act swiftly to protect Americans and our Afghan allies and partners on the ground."
Sen. Jeanne Shaheen, the New Hampshire Democrat who serves as a member of both the Senate Armed Services and Foreign Relations committees, told reporters that the images of Afghan civilians at the airport pleading to be evacuated are "seared into our minds."
"Dire conditions on the ground persist today and without swift, decisive action from the administration, Afghan civilians will suffer or die at the hands of the Taliban," Shaheen added, calling for a swift expansion of the refugee program for Afghan women seeking asylum.
"A failure to act now will seal their fate, and the generation of girls who grew up with freedoms, education and dreams of building their country's future will die with them."
Rep. Seth Moulton, the Massachusetts Democrat who served in Iraq as a Marine, called the situation in Afghanistan a "disaster" and a "tragedy" that could have been avoided.
"There's no way to hide it. The situation in Afghanistan is another shame on this administration – withdrawal was never going to be easy but it didn't need to come to this," said Rep. Vicente Gonzalez, the Texas Democrat who serves on the House Foreign Affairs Committee member. "The US must do everything in its power to help our partners and allies to safety and protect our national security."
Shadi Hamid, a liberal Muslim policy analyst who serves as a senior fellow at the Brookings Institution, a left-of-center think tank in D.C., called Biden's address "one of the cruelest foreign policy speeches I've ever heard from an American president."
"The real Biden doctrine is emerging," he tweeted. "Biden pretended to care about 'values' and moral leadership during the campaign, but he has a long history of not particularly caring about values abroad, particularly in Muslim-majority countries."
"A friend just texted, saying Biden's speech was 'dishonest and cowardly,' which I think sums it up quite well."
REPUBLICANS BLAST BIDEN 
"This is President Biden's Saigon moment," House Minority Whip Steve Scalise, the Louisiana Republican, said on CBS News' Face the Nation.
"It's a very dire situation when you see the United States Embassy being evacuated. In fact you just had President Biden a few days ago saying you wouldn't see helicopters evacuating the embassy like Saigon, and yet here we are," Scalise said.
Senate Republican Leader Mitch McConnell of Kentucky issued the following statement: "the Biden Administration's botched exit from Afghanistan including the frantic evacuation of Americans and vulnerable Afghans from Kabul is a shameful failure of American leadership."
"The rapid advance of the Taliban was expected after the U.S. abandonment of Afghan security forces," McConnell noted. "The plight of innocent Afghans was predicted, and the challenges of safely evacuating U.S. personnel and innocent Afghans have been magnified by our inexplicable withdrawal from Bagram Air Base. And the likelihood that Al Qaeda will return to plot attacks from Afghanistan is growing."
"Everyone saw this coming except the president, who publicly and confidently dismissed these threats just a few weeks ago.  The strategic, humanitarian and moral consequences of this self-inflicted wound will hurt our country and distract from other challenges for years to come."
Sen. Lindsey Graham, the South Carolina Republican, also criticized Biden.
"The takeover of Afghanistan by the Taliban is a sad and dangerous event for U.S. national security interests and the world at large," Graham wrote on Twitter.
"Jihadists all over the world are celebrating this event. It is only a matter of time until al-Qaeda reemerges in Afghanistan and presents a threat to the American homeland and western world. President Biden seems oblivious to the terrorist threats that will come from a Taliban-run Afghanistan."
"As a former presidential speechwriter, I was shocked by the utter lack of empathy," tweeted Marc Thiessen, who served in the administration of President George W. Bush. "No acknowledgement of the heart wrenching scenes we see playing out or the humanitarian catastrophe unfolding before our eyes."
THE POLL
"Support for the U.S. withdrawal from Afghanistan is falling amid widespread coverage of the Taliban's takeover of the country, according to a new poll," reported The Hill newspaper in Washington.
"The survey, conducted by Morning Consult and Politico between Aug. 13 and Aug. 16, the day after the Taliban completed its takeover of Kabul, found that 49 percent of American voters support President Biden's decision to pull troops from the country. That is significantly down from the 69 percent who expressed support for the exit in an April survey by the same firms."