Deadly Baghdad protests demand justice for targeted assassinations while underscoring Iranian influence in the nation
With elections approaching in October, Iraq is teetering between assassinations and a revolution
by All Arab News Staff | May 30, 2021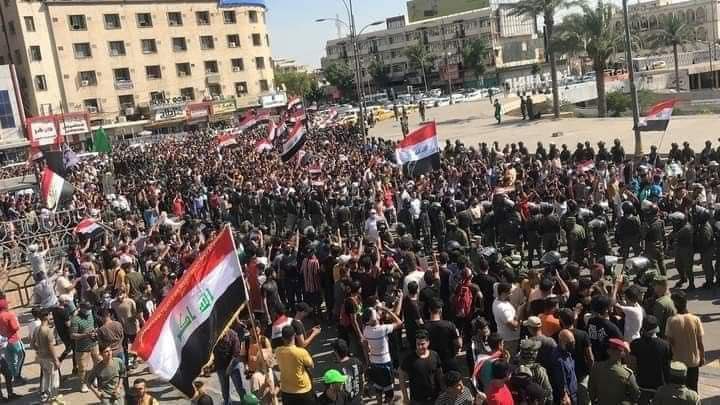 Protest in Tahrir Square, Baghdad, May 25, 2021 (Photo: Twitter)
Two protestors were killed and 150 wounded as hundreds of demonstrators gathered in Baghdad's Tahrir Square last Tuesday to demand justice for dozens of victims of targeted assassinations of Iraqi reporters and activists.
The protestors used the slogan "Who killed me?" to emphasize the government's failure to reveal the identities of those believed to have murdered the Iraqi activists, widely known to be hostile toward Iran. They waved posters of the victims, a total of 34 since protests began in 2019, according to Ali al-Bayati of the Iraqi High Commission for Human Rights.
The demonstrators demanded that the assassins be held accountable by the Iraqi government. It was reported that one senior Iranian-backed commander of a terror group was arrested – only to be released later with an apology from Iraqi Prime Minister Mustafa Al-Kadhimi.
Iranian militias have been infiltrating Iraq for several years.
The latest victims include well-known commentator Hashem Al-Mashhadani and Ihab Al-Wazzani, who was known for his opposition to Iranian interference in Iraq and had become one of the most prominent leaders of the protests in Karbala.
"Killings, attempted murder and abductions have targeted more than 70 activists since a protest movement erupted against government corruption and incompetence in 2019," according to an article an al-Arabiya. "Authorities have consistently failed to publicly identify or charge the perpetrators of the killings, which have not been claimed."
Mass demonstrations in Iraq began in October 2019, resulting in the resignation of former Prime Minister Adel Abdul-Mahdi and the appointment of Mustafa Al-Kadhim. The demonstrations were renewed last week in light of the new government's failure to bring about change and the lack of safety from armed Iranian intervention in Iraq.
Some 17 parties and movements have withdrawn from the elections and will boycott them. They contend that democratic elections would be impossible due to the attempted assassinations by Iranian Shiite militias of rival candidates.
Many candidates have been threatened and have dropped out of the election, fearing for their safety.
In a conference on Saturday, Iraqi President Barham Salih stressed the need to maintain security and stability in Iraq, to avoid demonstrations in the Green Zone and to limit weapons possession. He focused on the need to hold early elections, scheduled for Oct. 10, and called on the government to implement past agreements while also holding those responsible for rioting chaos accountable.
Al-Bayati said true accountability will not come through the government itself. 
"It is not logical to open an investigation by authorities and institutions that are responsible for violence against the protests," al-Bayati said. "The prime minister must remove any officer or figure where violence was committed in their fields of responsibility. They must all be referred to the judiciary."