Is Lebanon headed for civil war? Beirut erupts in deadly clashes after protest turns violent
Reports of five dead, at least 60 wounded; Violence comes after judge in Beirut Port blast investigation issues arrest warrant for Hezbollah-affiliated official
by All Arab News Staff | October 14, 2021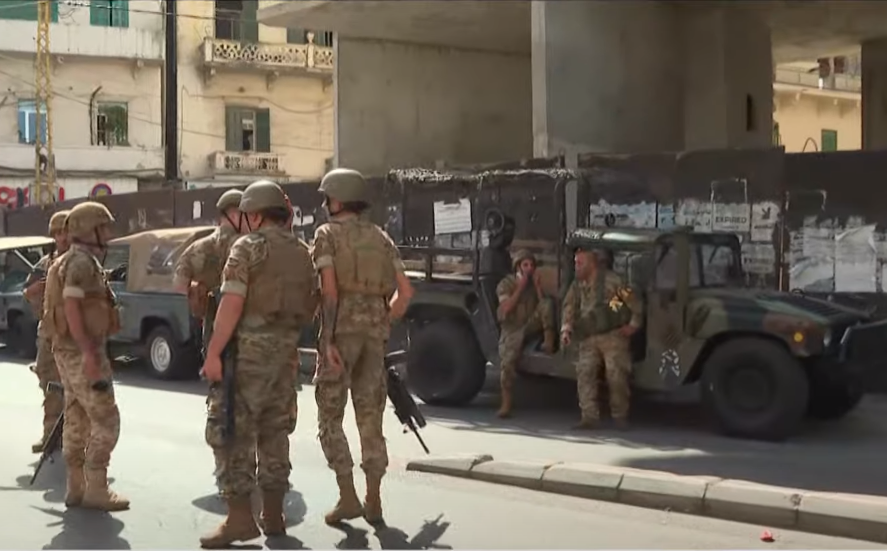 Soldiers patrolling the streets of Beirut after deadly clashes broke out, Oct. 14, 2021. (Photo: YouTube screenshot)
At least five people have been killed and several wounded after fighting erupted in the streets of the Lebanese capital today during protests over a ruling on the deadly explosion at the Port of Beirut last August.
Men with machine guns and grenade launchers battled each other as civilians scrambled for safety. The deadly clashes took place in a residential neighborhood and was characterized as some of the worst street fighting in Lebanon in recent history.
The Lebanese army has been deployed to restore order and earlier warned that troops were ordered to shoot at any armed person it encountered.
Though it is unclear what triggered it, the fighting broke out during a protest organized by Hezbollah, a terrorist organization backed by Iran, and its ally Amal, against a ruling in the investigation of the Port explosion that left more than 200 dead and thousands wounded and homeless last year.
Hezbollah and Amal, both Shiite organizations and political parties in the Lebanese government, have been calling for the removal of the judge leading the investigation into the 2020 port explosion. This week, Tarek Bitar issued an arrest warrant for Ali Hassan Khalil, an official in the Amal party and former finance minister, and Nouhad Machnouk, an ally of former Prime Minister Saad Hariri.
So Hezbollah tooled up; seen just here: RPG-7 w/ PG-7M, AKM(S), G3(A3), AK-74, M16A1. What I expected from their "QRF" but not sure how well that works with the LAF saying they'll shoot anyone who's armed…pic.twitter.com/jTK82smSMs

— Cᴀʟɪʙʀᴇ Oʙsᴄᴜʀᴀ 🍂 (@CalibreObscura) October 14, 2021
Hezbollah accused a Christian group, Lebanese Forces party, of instigating the fighting by shooting at their protestors earlier today.
"We call for the army to assume their responsibilities in restoring normality and arrest the perpetrators of the killings, who are known by name," Hezbollah said in a statement, adding that it was sending armed reinforcements to the city.
Samir Geagea, head of the Lebanese Forces, condemned the violence but did not address the accusations hurled by Hezbollah.
The chaos that erupted today underscores an already fragile situation in Lebanon. The nation has been spiraling out of control with high inflation and unemployment leading to fuel shortages and eventually a blackout last week that left most of the country in the dark for 24 hours.
The Port explosion further devastated an already ailing nation whose leaders have appealed for bailouts from other countries.
Developing story…
Last updated at 5:50 p.m. Lebanon time