During Washington summit, UAE foreign minister reveals he is coming to Israel 'soon' to 'celebrate' new bilateral relationship
Israeli foreign minister and U.S. secretary of state openly discuss "other options" if Iran refuses to agree to nuclear restrictions — are we seeing hints of a military strike?
by Joel C. Rosenberg | October 14, 2021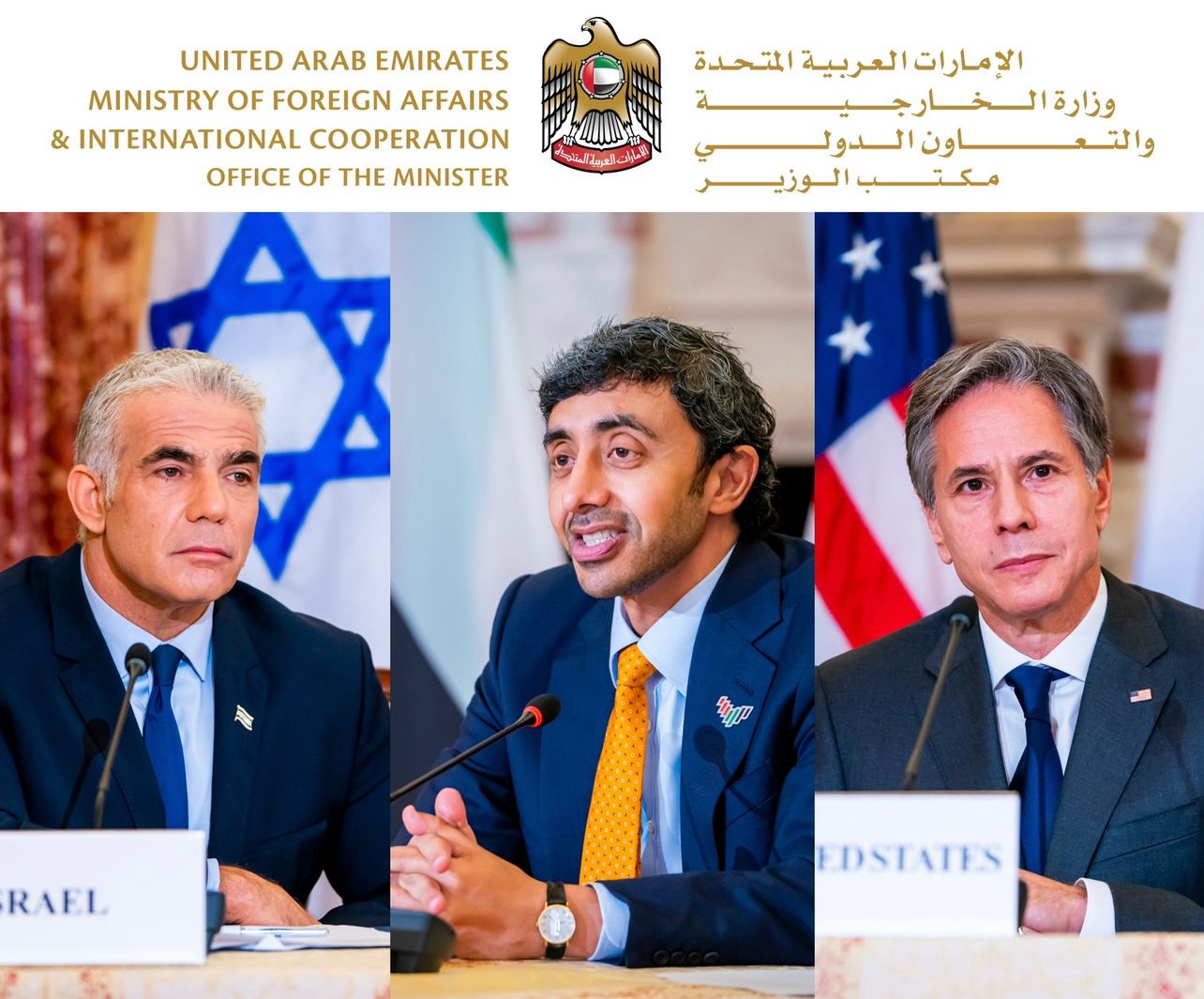 Photo: UAE Ministry of Foreign Affairs
U.S. Secretary of State Tony Blinken on Wednesday held his first in-person summit in Washington with his Emirati and Israeli counterparts to advance Arab-Israeli peace-making and explore ways to counter the rapidly rising Iranian threat.
Joining Blinken were:
Sheikh Abdullah bin Zayed Al Nahyan, the minister of Foreign Affairs and International Cooperation from the United Arab Emirates,  known in the region by his initials ABZ.
Yair Lapid, Israel's foreign minister and alternate prime minister.
After a very slow start, the Biden administration is finally embracing the Abraham Accords – brokered by former President Donald Trump and his team in the summer and fall of 2020 – in a warm and public manner.
Candidate Joe Biden had initially praised the Accords during the campaign last year, literally the only area of agreement between the two men.
Yet until now, the Biden team has seemed reluctant to discuss the historic Arab-Israel normalization treaties, even hesitating to use the term, "Abraham Accords."
That began to change last month, when a mid-level Biden official attended a bipartisan event in Washington — organized by Jared Kushner's Abraham Accords Peace Institute — to celebrate  the one-year anniversary of the Accords.
Two days later, Blinken hosted a virtual summit online with his Israeli, Emirati and Bahraini counterparts.
SIGNIFICANT STEP FORWARD
Yesterday's summit was a significant step forward for the Biden administration.
It was in person and more in depth.
(Photo: Shlomi Amsalem/GPO)
It also demonstrated Blinken's more personal involvement in strengthening the Accords.
This is a good development.
Blinken openly embraced the term "Abraham Accords" and praised the UAE-Israeli relationship for having "flourished" over the last 12 months.
Indeed, it has.
Direct flights are now connecting Israel and the UAE.
More than 200,000 Israelis have visited the UAE since the signing of the Abraham Accords one year ago.
And senior UAE officials openly say they want to achieve $1 trillion in bilateral trade with Israel by 2031.
"We strongly support these historic steps and are committed to building on the first of the last administration to expand the circle of countries with normalized rejections with Israel in the years ahead," Blinken said at press conference, adding his hope that Palestinians and Israelis will move towards peace, as well.
Blinken announced two new working groups.
One will work on advancing religious tolerance and cooperation between Jews, Muslims and Christians in the region, and fighting anti-Semitism and Islamophobia.
The other will address water and energy issues.
UAE FOREIGN MINISTER SAYS HE IS COMING TO JERUSALEM
The big news from the summit was generated by  the UAE foreign minister.
Asked by a reporter if he had any plans to visit Israel, ABZ said yes and explained he hopes to go to Jerusalem "soon."
"Foreign Minister Yair was kind enough to invite me to visit Israel and I'm going to visit – soon – to meet a friend but also a partner," he said, saying it is important that we "celebrate this relationship" between the UAE and Israel and "look at new venues of cooperation."
ABZ spoke warmly of the personal friendship and professional relationship he is forming with Lapid – calling Lapid "my dear friend" – and of the bilateral partnership they are building between their two "successful countries."
(Photo: Screenshot from State Department press conference video feed)
On June 29, Lapid became the highest-ranking Israeli official to visit the UAE, meeting with ABZ and formally opening the Israeli embassy in the capital of Abu Dhabi.
In July, the UAE opened its embassy in Israel, the first Gulf Arab state to do so.
ABZ noted he was encouraged that several ministers in Israel's national unity government have recently reached out to the Palestinians and even met with Palestinian Authority President Mahmoud Abbas.
WHAT'S NEXT WITH IRAN?
Blinken also made news by saying that while he prefers a "diplomatic path" to handling the Iran nuclear threat, "that he sees little interest from Tehran in engaging in good faith negotiations, and that time is running short" for Iran to accept a new deal to restrict their nuclear program.
"We're getting closer to the point at which compliance with the JCPOA will not, in and of itself, recapture the benefits of the JCPOA, and that's because Iran has been using this time [the last nine months of Biden's offer to negotiate] to advance its nuclear program in a variety of ways, including enriching uranium to 20%, and even to 60%."
He noted that "the runway" to being able to reach an agreement "is getting shorter."
(Photo: i24 News screenshot)
Blinken then warned "other options" are possible if Iran rejects a negotiated deal, hinting at more economic sanctions or even possible military action, though few analysts believe Biden has any intention of using force against Iran.
Lapid, by contrast, was far more clear.
"At the center of my visit here is my concern for Iran's race for nuclear capability," he said at the news conference. "Iran is becoming a nuclear threshold country."
"Every day that passes, every delay in the negotiations, brings Iran closer to a nuclear bomb," he added, saying Iran "is clearly dragging its heels" on negotiations.
"Secretary Blinken and I are sons of Holocaust survivors," Lapid noted soberly. "We know there are moments that nations must use force to protect the world from evil."
"If a terror regime is going to acquire a nuclear weapon, we must act. We must make clear that the civilized world won't allow it."
"Israel reserves the right to act at any given moment, in any way," he warned. "That is not only our right. It is our responsibility."
That said, Lapid added he was encouraged by the "alliance of moderates" emerging in the Middle East who "are focused on life, on hope."