First senior Saudi official to US under the Biden administration as deputy defense minister arrives unannounced
Meeting seen as a positive step after months of Biden signaling a more reserved approach towards the Saudis than his predecessor
by All Arab News Staff | July 8, 2021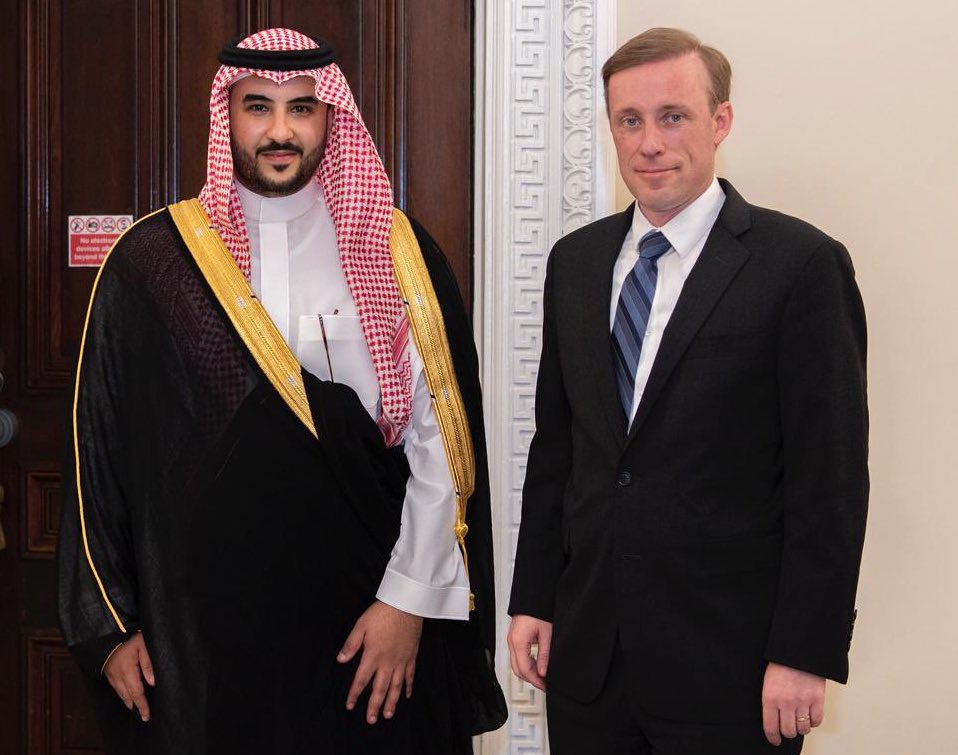 Prince Khalid bin Salman, Saudi Arabia's deputy defense chief, meets with U.S. National Security Advisor Jake Sullivan. (Photo: Prince Khalid's Twitter feed)
Saudi Prince Khalid bin Salman who serves as the kingdom's deputy defense minister made an unannounced visit to Washington on Tuesday. The Saudi deputy defense minister, who is a brother of Crown Prince Mohammed bin Salman, became the first top Saudi official to visit the American capital under the Biden administration. 
Unlike former U.S. President Donald Trump who embraced close ties with Saudi Arabia, President Joe Biden has so far signaled a far more reserved approach towards the Saudis, strongly criticizing the conservative Islamic kingdom for its poor human rights record. 
Previously, Biden also vowed to hold Crown Prince Mohammed bin Salman accountable for the controversial murder of the dissident journalist Khashoggi in 2018. Could the visit of a senior Saudi official to Washington signal a return to a more traditional U.S. position concerning its complex bilateral relations with Saudi Arabia? 
During his visit to Washington on Tuesday, Prince Khalid bin Salman met top Pentagon officials including U.S. Defense Secretary Lloyd Austin, Chairman of the Joint Chiefs Gen. Mark Milley and Pentagon's top policy chief Colin Kahl. The senior Saudi official also met the Biden administration's national security advisor Jake Sullivan. The Saudi deputy defense minister is also expected to meet with State Department officials on Wednesday. 
Pentagon spokesman John Kirby later confirmed that the purpose of the top level meeting was "to reaffirm the US-Saudi relationship." 
Kirby told reporters that Kahl "thanked the vice minister for working closely and constructively with U.S. special envoy Tim Lenderking to end the war in Yemen and condemned the Houthi cross-border attacks." 
Biden officials reportedly discussed with the senior Saudi visitor different ways to support the Saudi government's efforts to defend its vast territory against the intrusion of armed enemy drones, which "are increasingly becoming weapons of choice" in the Middle East, according to Kirby. In recent years, Iran and the Houthis, its terrorist proxies, have reportedly targeted crucial national infrastructure in Saudi Arabia with advanced drones. 
While the Biden administration has frozen arms sales to the Saudi government over its military conduct in the Yemeni civil war, it has continued to support Riyadh's defense against drone and missile attacks on Saudi territory. 
Under former U.S. President Donald Trump, a regional Arab-Israeli tacit alliance emerged with the Iranian regime as the perceived shared threat. By contrast, the Biden administration hopes to reduce regional tensions between Iran and its rival Saudi Arabia. 
The seemingly improved U.S.-Saudi ties come at a time when the Biden administration seeks to revive the controversial nuclear deal with Saudi Arabia's regional rival Iran. While generally supportive of a deal with Tehran, European powers recently warned the Iranian regime over its escalating enriched uranium metal production. The Biden administration also criticized Iran and called its provocative actions an "unfortunate step backwards."
By improving its ties with Saudi Arabia, Washington is likely signaling to the Iranian regime that America still stands by its regional allies and that the Tehran regime should avoid crossing Washington's red lines in the Middle East. Biden, who recently hosted former Israeli President Reuven Rivlin, told his Israeli guest that America would not tolerate any Iranian nuclear bomb on his watch.