Hamas admits using civilians as human shields
Israel accuses Hamas of double war crimes for such fighting – firing at Israeli civilians from within civilian population centers
by All Arab News Staff | June 9, 2021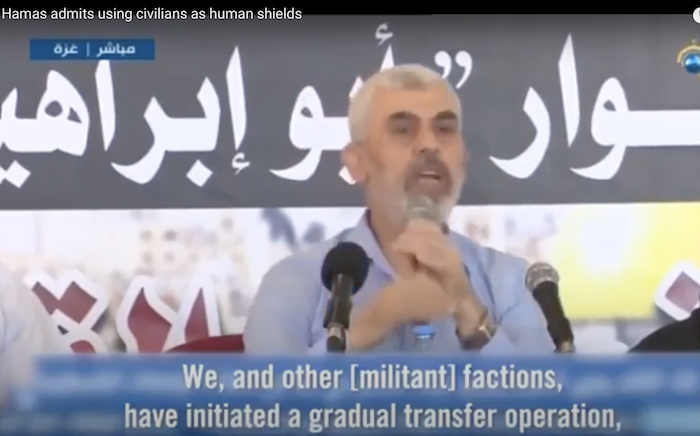 The head of the Hamas political bureau yehia elsinwar In a speech in Gaza after the end of the war between Hamas and Israel last month (photo: youtube screenshot )
In a speech to the head of the Hamas political bureau in Gaza after the end of the war between Hamas and Israel last month, Yahya Sinwar admitted that his organization has several military headquarters embedded in residential buildings – something Israel has been accusing the organization of all along.
Hamas has always denied the existence of military and security headquarters among Gaza residents. This contradicts videos published by the Israeli army which indicate that rockets were launched from among the residential areas.
Now, in a video that is making its way around the media, Sinwar admits as much, but also says Hamas is working to rectify this.
MUST WATCH: Hamas leader Yahya Sinwar admits that the terrorist group hides in civilian buildings in Gaza.

Hamas uses Palestinian civilians as human shields. This is a war crime! #Gaza #Israel pic.twitter.com/KzM4mbOG8C

— Hananya Naftali (@HananyaNaftali) June 6, 2021
"The issue of military headquarters embedded in civilian populations posed a huge problem during the previous rounds of fire," Sinwar said. "We and other factions have initiated a gradual transfer operation with the aim of relocating a number of military headquarters from within the civilian population.
"We have managed to move many headquarters, but it is necessary to move many more. With God's help we will continue this work," he continued. "We are paying attention to this issue and are taking care to move a large portion of the headquarters, mainly from towers, residential buildings and other places. We have successfully replaced any of these places and, God willing, we will complete this task."
Sinwar indicated that Islamic Jihad uses the same methods.
Hamas is the ruling power in the Gaza Strip. The densely populated cities make Israel's attempts to avoid civilian casualties difficult and the added challenge, Israel has long maintained, is that Hamas uses residential buildings for their operation and schools and hospitals for storing and firing weapons.
This is why Israel accuses Hamas of double war crimes during fighting such as this. The terror organization is firing at Israeli civilians from civilian population centers including schools, playgrounds, hospitals, mosques and factories – in effect using Palestinians as human shields.
In the last war, some 200 Gazans, including many civilians, were killed. Some of the civilians died when Israel bombed the security headquarters of Hamas and Islamic Jihad in the middle of an apartment building.
This video from Sinwar's speech is clear evidence that Hamas uses Palestinian civilians as human shields. He then begins to speak about human rights for the world and that Israel is bombing civilians for no apparent reason.
Ironically, the Gaza director of the United Nations Relief and Works Agency for Palestine Refugees (UNRWA) was "recalled" after he said Israel employed  "huge sophistication" in carrying out "precise strikes" to avoid harming civilians.
"I'm not a military expert but I would not dispute that," Matthias Schmale told Israel's Channel 12 in an interview that went viral and ended up costing him his job. He said there was "huge sophistication" in how Israel hit its targets.
He was apparently recalled from Gaza after facing threats. His successor was immediately summoned to discuss with Sinwar the "negative repercussions" of Schmale's statements, according to a Hamas statement.
Hamas and Islamic Jihad fired over 4,300 rockets at Israel within 11 days, and an unconditional ceasefire was reached with Egyptian and American mediation. There is currently talk of a prisoner exchange between Hamas and Israel and whether Israel will allow Qatari aid into the Gaza Strip.