Islamic Jihad delivers on warning: 15 rockets launched at 9 p.m. Israel time on the dot
Fire raging on the Temple Mount, known as Haram al-Sharif to Muslims
by All Arab News Staff | May 10, 2021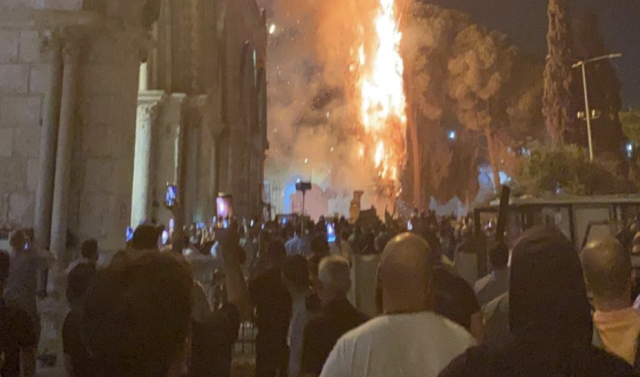 Islamic Jihad says it will renew rocket fire against Israel at 9 p.m. – less than one hour from now.
A fire is currently raging on the Temple Mount, known to Muslims as Haram al-Sharif. The fire was caused by firecrackers set off by Palestinians at the plaza.
The IDF said in a statement: "After terrorists in Gaza fired a barrage of rockets at central and southern Israel over the past few hours, we just struck 3 Hamas terrorists in Gaza. We hold the Palestinian terror group Hamas in Gaza accountable for this serious aggression against us."
עץ עלה באש בהר הבית, רחבת הכותל מפונה@SuleimanMas1 @AkivaWeisz pic.twitter.com/eViJ9IoZtN

— כאן חדשות (@kann_news) May 10, 2021
Prime Minister Benjamin Netanyahu promised to defend Israel and said Hamas will pay for this.
"We are in a struggle that is spreading across several fronts: in Jerusalem, in Gaza and elsewhere in the country," he said. "The terrotist organization in Gaza crossed a red line on the evening of Jerusalem Day and attacked us with missiles at the entrances of Jerusalem. Israel will respond with great force. We will not suffer harm to our territory, our capital, our citizens and our soldiers. Those who attack us will pay a heavy price."
U.S. State Department spokesman Ned Price said: "The United States strongly condemns the rocket barrages from Gaza towards Israel. This is an unacceptable escalation. We support Israel's right to defend itself."