HISTORY: First-ever UAE student starts courses at Israeli university
"I chose to come to study in Israel out of a strong desire to contribute to the advancement of peace," says Mansoor Bin Shamekh Al Marzooqi, who just started at IDC Herzliya
by All Arab News Staff | June 20, 2021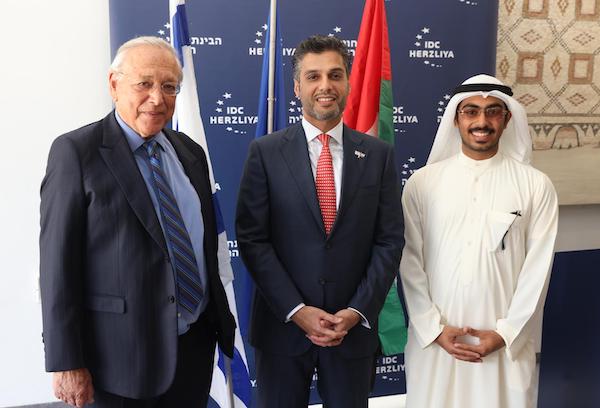 Prof. Uriel Reichman, president and founder of IDC Herzliya, UAE ambassador to Israel Mohamed Al Khaja, Mansoor Al Marzooqi (Photo: Amb. Mohamed Al Khaja's Twitter feed)
Mansoor Bin Shamekh Al Marzooqi, 19, made history when he arrived at the Interdisciplinary Center (IDC) Herzliya campus this month, becoming the first Emirati student to attend an Israeli university.
Marzooqi is a new student at one of Israel's leading academic institutes, on the coast north of Tel Aviv, and will pursue a bachelor's degree in government studies, including public policy, diplomacy, foreign policy and strategy, at the university's Raphael Recanati International School. The historic enrollment is made possible by the Abraham Accords signed between Israel and the United Arab Emirates in September.
The Raphael Recanati International School has approximately 2,100 students from over 90 countries across the globe, including Morocco, Jordan and Egypt, as well as African countries such as Somalia, Sudan, Kenya and Nigeria.
Marzooqi was welcomed with a festive reception.
"I chose to study in Israel out of a strong desire to contribute to the advancement of peace. The steps taken by the leaders of our two countries have given me the opportunity to come here and show our value, that of young people, in promoting cooperation for peace and prosperity," he said.
Prof. Uriel Reichman, president and founder of IDC Herzliya, said he is "proud that IDC is the first academic institution in Israel to welcome a student from the United Arab Emirates."
"IDC was founded with the goal of cultivating the future leadership of the state and of Israeli society, with a global outlook, and I am glad that young people from the countries of the region are choosing to study here and join our community."
"Academic relationships are particularly important especially when future leaders study together at university," he said. "The connections formed during their studies yield collaborations and friendships that will build a culture of peace in our region."
The launch of the student exchange program was an initiative of former Israeli Education Minister Yoav Gallant and UAE's ambassador to Israel, Mohamed Al Khaja. The two emphasized the importance of educational cooperation and agreed to establish a designated team to focus on the exchange of students, teachers and academics between the two countries.
Al Khaja attended the reception and congratulated Marzooqi, along with other top officials.
"Upon signing the historic Abraham Accords, the United Arab Emirates and Israel pledged to promote peace and prosperity in the region and eliminate the barriers to cooperation that have long separated our two nations," Al Khaja said. "Today marks yet another important milestone in our quest towards achieving our shared vision of engagement. I believe that education and culture are a bridge to a better future. Working together for the progress and success of research collaboration and student exchanges will bring our peoples closer."
In May, just over a month after his appointment, Al Khaja published an editorial in one of Israel's daily papers, Yediot Aharonot, noting the similarities he had found between Emiratis and Israelis.
"As we began to build ties," wrote Al Khaja, "we, the representatives of the UAE and Israel, discovered that we have a lot in common. When I arrived in Israel, I was surprised to find out how true this is on a personal level as well."
Al Khaja explained how on one of his first tours of Tel Aviv, he was surprised to see an active mosque, hustling and bustling in one of the most central and prestigious locations in the city, between Carmel Market and the beach.
"The ability to live together — Jews, Muslims, Christians and members of other religions — is an amazing quality of the citizens of Israel that not many know about," Al Khaja wrote. "In the UAE, too, members of all religions live together in peace out of mutual respect, and more than 200 nationalities call the UAE their home."
"Israelis genuinely live together as one nation and one people," Al Khaja stated. "The UAE also embodies this fusion in its status as the gateway to the Middle East and a country that combines East and West, modern and traditional."
The appointment of Al Khaja in February was another positive outcome of the Abraham Accords normalization agreement – the important milestone in UAE-Israel relations. A month prior, Israeli ambassador Eitan Na'eh arrived in Abu Dhabi to officially begin his post as Israeli ambassador to the UAE.