Is Sheikh Hassan Nasrallah sick, dead or back to business as usual after a brief illness?
Ever since his May 25 speech threatening Israel's destruction, rumors have run rampant about the state of the Hezbollah leader's health – and even of his death. None have been confirmed.
by Nicole Jansezian | June 1, 2021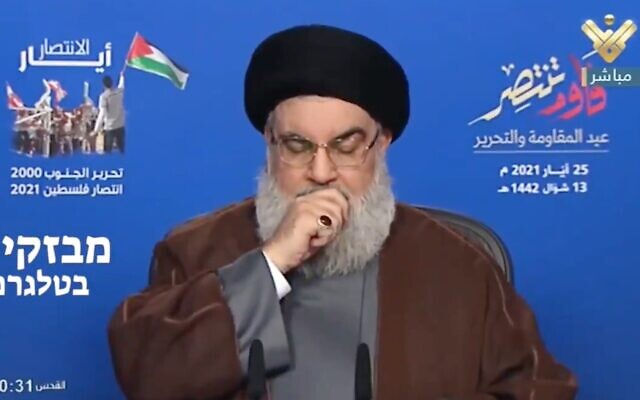 Hezbollah leader Hassan Nasrallah coughs during a speech, May 25, 2021 (Photo: Twitter screenshot)
Ever since his televised May 25 speech in which Sheikh Hassan Nasrallah threatened Israel's destruction for its "violation of Jerusalem," rumors have been running like wildfire around the region regarding the alleged deteriorating health of the Hezbollah leader.
Nasrallah broke into coughing fits as he pledged loyalty to the Palestinians while also explaining he had only appeared on television now because he was recovering from an illness.
After the speech, the Israel Defense Forces officials leaked a military assessment that Nasrallah was sick with COVID-19. Israeli media picked up the story.
Since then, rumors have persisted. Social media around the region exploded with a range of unconfirmed reports, some saying Nasrallah was ill with a lung infection other than COVID, to others reporting that he was in a coma and – ultimately – that he had died.
The Lebanese government has denied rumors of his death.
Sheikh Hassan Nasrallah has been Israel's northern nemesis and the secretary-general of the terrorist group Hezbollah ("Party of God" in Arabic) since 1992.
As the leader of Hezbollah, Nasrallah:
created a social welfare program which earned the group popular support in Lebanon
catapulted Hezbollah into a political powerbroker in the Lebanese government with high representation and strong influence over other politicians
fashioned himself as the leader of Lebanon's "resistance" against Israel
Here is some more background on the long-time figurehead of Hezbollah.
Born in Beirut, Nasrallah was the oldest of eight children in a poor family. Despite being raised in a non-observant Muslim family, Nasrallah was an avid student of Islam and became a devout Shi'a and fully religious by the age of 9. Throughout the course of his life, he traveled to Islamic seminaries in both Iraq and Iran.
When he was 15, he joined Amal, a Lebanese Shi'a paramilitary group and after Lebanon's civil war, Nasrallah went to Iraq to study at a Shi'a seminary, returned to Lebanon in 1978 and fought with Amal until 1982 when he joined the fledgling Hezbollah movement. 
He adopted the Shi'a political and theological doctrine of Wilayat al-Faqih (Guardianship of the Jurist), which places supreme leadership in one "custodian" of Islam in the absence of the 12th Imam. Ayatollah Ruhollah Khomeini popularized this concept of "guardianship" in the 1970s and this is now the constitutional base of the Islamic Republic of Iran.
"In the absence of Imam Mahdi (May Allah make him appear again) the mandate of the affairs and leading the Imamate of the nation of the Islamic Republic of Iran shall be in the hands of a fair, pious, visionary of the matters of the times, a brave Faqih, who is able to run and manage…" the Iranian constitution says.
From the Eye on Hezbollah website: "Nasrallah became a devotee of the ideology of Wilayat al-Faqih and a proponent of transforming Lebanon into 'part of the larger Islamic State ruled by,' the Supreme Leader of Iran. He and Hezbollah continue to hold this position to the present day, though they want to bring it about by gradual and non-violent means."
Hezbollah's history, however, can be characterized by anything but "non-violent."
The Shi'a militia is known today as Iran's proxy in Lebanon with guerrilla army on the country's southern border with Israel. During Nasrallah's leadership, Hezbollah was designated a terrorist organization by the United States and other nations. 
Also during his tenure, Hezbollah has amassed an arsenal believed to be more than 100,000 long-range missiles with the capability to strike well into central and southern Israel.
Nasrallah led Hezbollah forces in conflicts with Israel in 1993, 1996, 2000 and 2006. In 1997, Nasrallah's 18-year-old son, Hadi, was killed while fighting Israel. Nasrallah has called Israel a "cancer" and was quoted once as saying, "There is no solution to the conflict in this region except with the disappearance of Israel."
Hezbollah is also responsible for, or has been accused of, several domestic terror attacks and assassinations including the killing of Rafiq Hariri, the former prime minister, and the bombing of the U.S. Marines headquarters in Beirut in 1983.
Nevertheless, Nasrallah transformed his militia into a political powerbroker. After the 2006 war against Israel, a powerful and popular Hezbollah demanded more seats in the Cabinet and basically paralyzed the government through protests and boycotts until it got what it wanted in 2008 – including veto power. 
In 2011, Hezbollah temporarily lost some of its influence as members were indicted in the 2005 assassination of former prime minister Rafiq al-Hariri only to regain seats in the May 2018 election.
"Throughout this time, the gang claimed to be a national liberation movement; but the reality and clear pieces of evidence showed that they are just mafias hiding behind the curtain of resistance against Israel which achieved all of its objectives in 2000 and 2006," said one article in the Arab Times.
Now, Hezbollah appears to be losing favor among the Lebanese yet again. Economic woes and COVID have plagued the country and, in August 2020, Hezbollah ammunition was believed to be the cause of a massive and tragic explosion at the Beirut port which killed more than 200 people and left an already struggling Lebanon to grapple with even more problems. 
In the recent conflict between Israel and Hamas, Hezbollah was quiet. Rockets launched from Lebanon were claimed by Palestinian factions while Hezbollah denied involvement. 
"But this idleness was embarrassing, as the support-base of Hezbollah and Iran in the region were expecting some kind of action – not necessarily as strong as Hamas' reaction to the clashes in Jerusalem – but at least some kind of retaliation that proves Hezbollah's commitment to 'the Palestinian Cause,' as they claim," wrote journalist Hanin Ghaddar, a fellow at The Washington Institute's Geduld Program on Arab Politics.
On May 25, after the Hamas-Israel ceasefire, Nasrallah gave a televised address in which he broke into coughing fits several times and appeared weak causing speculation that he is seriously ill.
The question is whether the organization will be able to maintain its power and influence without Nasrallah at the helm.