Keep your eye on Moroccan Foreign Minister Nasser Bourita, key player as a Muslim king carefully builds a deeper friendship with the Jewish State of Israel
I was greatly encouraged by Bourita's genuine warmth towards Christians, as well
by Joel C. Rosenberg | June 21, 2022
Joel C. Rosenberg meets with Moroccan Foreign Minister Nasser Bourita in Rabat, Morocco (Photo: ALL ARAB NEWS)
RABAT, Morocco—One of the most interesting senior officials I have met here in the Moroccan capital has been Foreign Minister Nasser Bourita.
We spent 90 minutes in his spacious and beautifully decorated office, sipping sweet mint tea, getting to know each other and discussing a wide range of geopolitical, economic and religious issues.
Though we had never met before, I have to say I have been greatly encouraged by Bourita's genuine warmth towards Israel, the Jewish people and towards Christians.
He helped organize the visit by Pope Francis to Morocco in March 2019.
On that trip, Morocco's King Mohammed VI and the Pope issued a joint statement affirming Jerusalem as a "city of peace" and "a symbol of peaceful coexistence, where mutual respect and dialogue can be cultivated."
What's more, it was Bourita who graciously invited me to come to Morocco as both an Evangelical faith leader and journalist.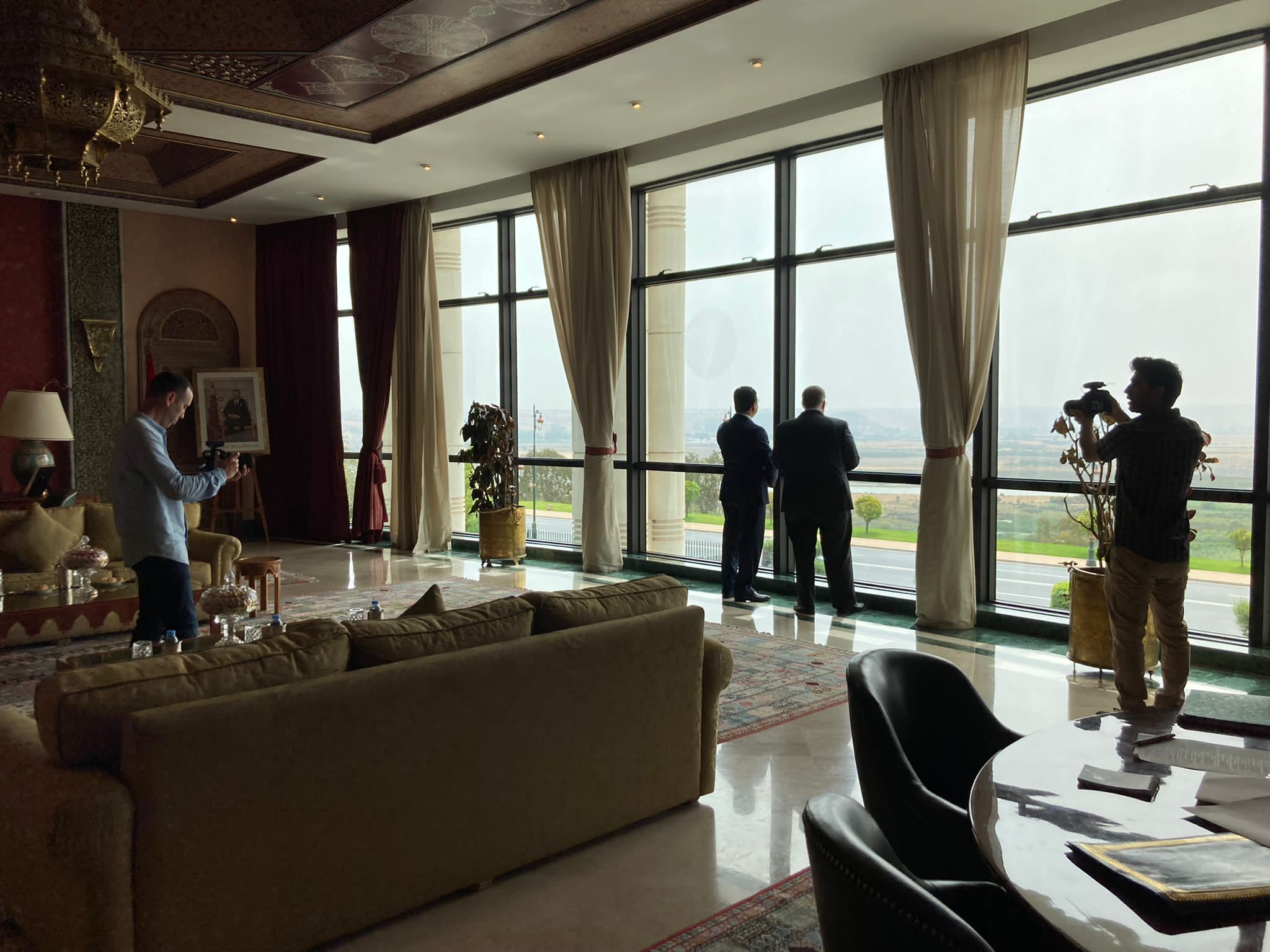 Joel C. Rosenberg meets with Moroccan Foreign Minister Nasser Bourita in Rabat, Morocco (Photo: ALL ARAB NEWS)
And it was his staff who meticulously arranged all the details of my stay and took care of me and my team every step of the way.
In fact, one thing that has become clear to me on this trip is that this Islamic nation is quite interested in building deeper ties to the wider Christian world, including with Evangelicals.
This is a very positive development and one I look forward to exploring and cultivating more in the weeks and months ahead.
When I am able, I will definitely write more about this.
MOROCCO TO OPEN EMBASSY IN ISRAEL SOON
For now, I would have to say that the most encouraging takeaway from this visit is learning — first from Israeli Foreign Minister Yair Lapid, actually — that the Moroccan government is finalizing preparations to formally open its embassy in Israel very soon.
The move is likely to happen this summer.
To that end, Bourita is laying the groundwork for his first-ever visit to Jerusalem to meet with senior Israeli government officials, as well as a visit to Tel Aviv, where the embassy will be located.
This is a very welcome development, and one that will help cement the courageous decision by King Mohammed VI to normalize relations with Israel in late 2020, despite intense opposition from Morocco's then-Islamist prime minister.
The ties between Morocco and Israel are long, deep and special.
One-in-10 Israeli Jews trace their lineage to Morocco.
Many Knesset members and other officials holding top posts are Moroccan Jews as well.
It remains to be seen how the sudden implosion of the Israeli government on Monday and the sudden move towards new elections – possibly as early as October – will affect Morocco's plans.
But rest assured that ALL ARAB NEWS will keep you posted as developments unfold.
BOURITA'S POSITIVE FIRST VISIT TO ISRAEL OCCURRED IN MARCH
Bourita's first visit to Israel occurred on March 27 and 28 at the "Negev Summit" in Sde Boker.
Israeli Foreign Minister Yair Lapid warmly welcomed him, along with the foreign ministers of the United Arab Emirates, Bahrain and Egypt, and U.S. Secretary of State Antony Blinken.
Joel C. Rosenberg meets with Moroccan Foreign Minister Nasser Bourita in Rabat, Morocco (Photo: ALL ARAB NEWS)
"We must build a dynamic according to concrete steps that the people feel and which contributes to improving the life of the world and to opening up promising prospects for the youth and the peoples of our region," Bourita told reporters at the time.
"We are here in the Negev to be a force working for peace and to say that a solution to the Palestinian issue and the Arab-Israeli conflict is possible."
He forcefully denounced a terrorist attack that occurred in the Israeli city of Hadera just as the summit was beginning and said he was glad that he and other Arab diplomats could stand with Israel – in Israel – in unified opposition to such violent extremism.
"Our presence here today is the best response to these attacks," Bourita insisted, adding that "we are here today because we truly believe in peace, not the peace in which we ignore each other, but the peace based on the construction of common values and interests and peace that keeps us away from war."
KEEP YOUR EYE ON THIS IMPRESSIVE AND TRUSTED DIPLOMAT
Born on May 27, 1969, Bourita just turned 53.
A career diplomat, he has worked his way up through Morocco's Ministry of Foreign Affairs, African Cooperation and Moroccan Expatriates, serving in a wide variety of junior, mid-level and senior posts, including chief of staff of the Ministry.
This has given him tremendous experience inside the bureaucracy and a strong network of contacts throughout the Moroccan government and in many other governments around the world.
Joel C. Rosenberg meets with Moroccan Foreign Minister Nasser Bourita in Rabat, Morocco (Photo: ALL ARAB NEWS)
Along the way, he has gained the trust of senior Moroccan officials, up to and including His Majesty the king.
Bourita was named foreign minister on April 5, 2017.
He served under Morocco's previous prime minister – helping negotiate and finalize the peace and normalization agreement with Israel which was announced on Dec. 10, 2020 – and continues to serve under the new prime minister, who rose to power just last year.
That breadth and depth of experience – combined with the fact that he has remained foreign minister despite the recent change of government – is a testament to how highly regarded and trusted Bourita is both at home and abroad.
As Morocco continues to build diplomatic, economic, cultural and religious ties with both Israel and the Jewish world, and with the Christian world, Bourita is a man I will be keeping a close eye on.
I recommend you do the same.