Nearly 100 dead in catastrophic fire at COVID ward in Iraq
While COVID itself has subsided in Iraq, COVID treatment centers have become deadly with the second massive fire in a few months
by All Arab News Staff | July 14, 2021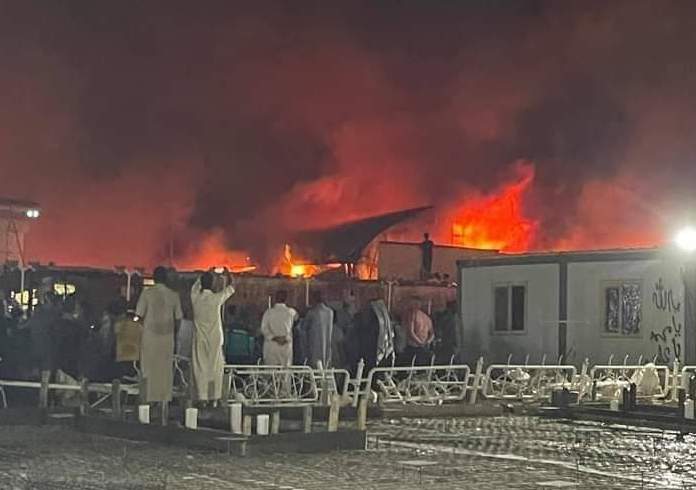 Fire at COVID ward at hospital in Nassiriya, Iraq, July 12, 2021 (Photo: Twitter)
A fire in a COVID ward in a southern Iraq hospital on Monday killed 92 people – a number that could rise as many patients remain in critical condition and some of the bodies have yet to be identified.
This was the second fire in Iraq in three months and the country is blaming widespread corruption and government failure for allowing such tragedies to occur.
The cause of the fire in the southern city of Nassiriya was traced to oxygen tanks that exploded due to faulty wiring. The tragedy was complicated by a lack of working fire extinguishers and doors that were padlocked, trapping the victims inside. 
Many of the victims were attached breathing machines and unable to evacuate. Some were family members of the COVID patients who were at the hospital to attend to their loved ones as the hospital was understaffed.
Iraqi Prime Minister Mustafa Al-Kazemi had ordered the arrest of the director of the hospital, the director of health in the region and the director of civil defense. He also declared three days of mourning for the souls of the victims.
The victims' families protested, denouncing the apparent disrespect for the lives of their children who died in the accident.
The Governor of Dhi Qar, Ahmed Ghani Al-Khafaji, issued a statement calling for the formation of a higher committee to investigate the circumstances of the fire and to submit its final report within 48 hours.
This is the second accident of its kind within a few months, as a similar fire took place on April 24 at the Ibn Al-Khatib Hospital in Baghdad due to an oxygen tank explosion. In that tragedy, 82 people died and 110 were injured. At that time, Al-Kazemi decided to suspend Minister of Health Hassan Al-Tamimi, and the governor of the capital, Baghdad Muhammad Jabr.
While Iraq faces several crises, including the coronavirus pandemic, COVID fears had subsided recently. However, COVID treatment centers have become centers of death themselves. Iraq is facing blatant Iranian interference in its internal affairs, power outages, corruption and sectarianism – all of which are ripping the country to pieces.