PART 1: Israel should not trust Turkish President Erdoğan – he's a wolf in wolf's clothing
We need to take a closer look at the radical Turk who now says he wants to normalize relations with Israel
by Joel C. Rosenberg | March 11, 2022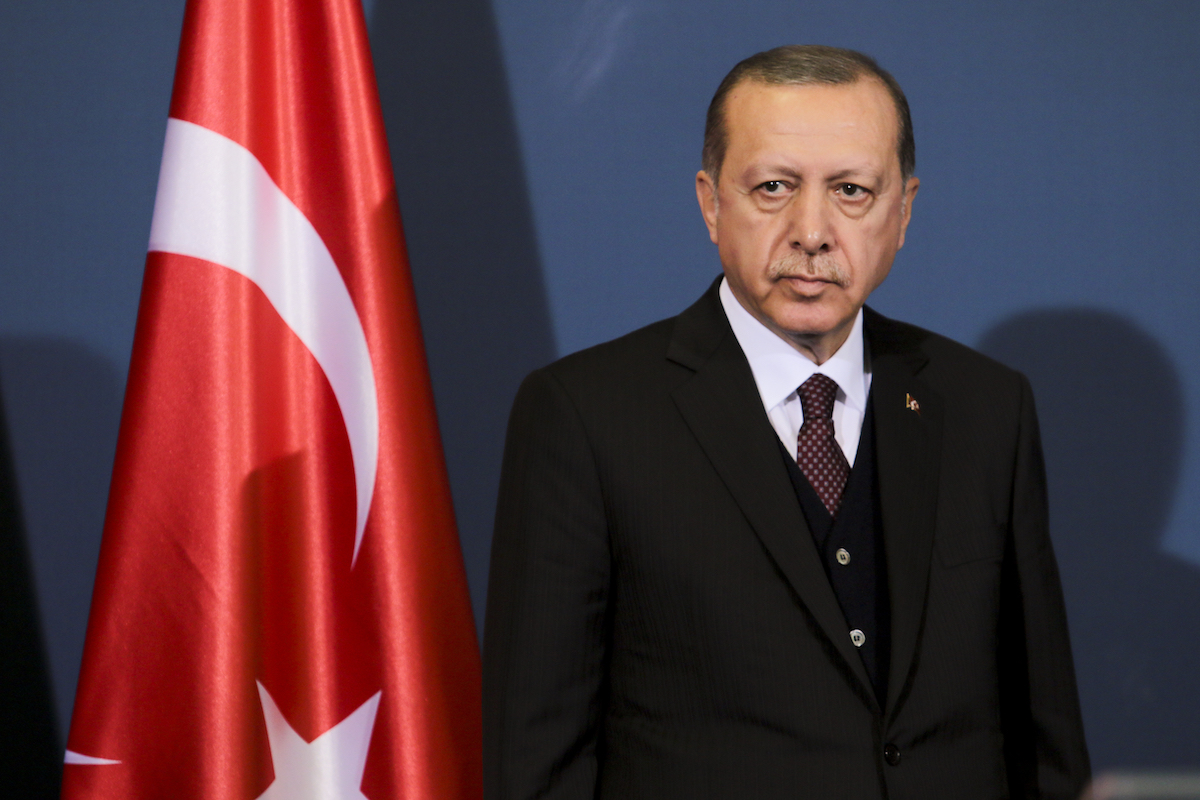 Turkish President Recep Tayyip Erdoğan (Photo: Shutterstock)
The headlines in Israel were filled this week with pictures and stories of Israeli President Isaac Herzog meeting in Ankara with Turkish President Recep Tayyip Erdoğan.
After all, this is the first visit since 2008 of an Israeli leader to the Turkish capital, so it is certainly newsworthy.
Herzog was not wrong to accept Erdoğan's invitation. Israeli intelligence should be learning everything it possibly can about the man's views, character, motivation, relationships and alliances. If Herzog can help in this regard, more power to him.
But Israel should not trust Erdoğan – not now, not ever. 
The man is a wolf in wolf's clothing.
Let's remember: In 2020, Erdoğan blasted the Abraham Accords and denounced any leader who normalized relations with Israel.
Why, then, is he choosing to do so?
It's not a change of heart.
There's something sinister going on here.
WHO IS PRESIDENT ERDOGAN?
In my recent book, "Enemies and Allies," I took some time to sketch out a profile of the man who is becoming more than a nuisance to Israel but rather a serious threat.
Given the events of the last week, it's worth drawing on some of that material to take a closer look.
I encourage you to read this entire article.
But if you don't have time, be sure to walk away with three key facts.
First, Erdoğan poses as a NATO ally, but he is actually becoming a dangerous enemy of the U.S., the West more generally, and Israel in particular.
Second, Erdoğan is a radical Islamist who wants to become the leader of the entire world of Sunni radical Islamists.
Third, Erdoğan hates Israel and longs for the day when a revived Ottoman Empire re-takes control of the Middle East and North Africa.
AN ENEMY, NOT AN ALLY
With some 375,000 active-duty soldiers under arms, Ankara has the largest military in Europe and is a member of the North Atlantic Treaty Organization (NATO). 
Under President Recep Tayyip Erdoğan, however, Turkey is now abandoning its longtime Western allies and turning East.
Indeed, step by step Erdoğan is becoming allies with Russian President Vladimir Putin and Iran's Supreme Leader, the Ayatollah Ali Khamenei, and his inner circle.
Historically, Moscow and Tehran are not obvious partners for Turkey, so the alliance bears some examination.
"For Turkish security analysts, no country is dreaded more for its military power and expansionist tendencies than Russia," writes Soner Cagaptay, a Turkish political analyst based in Washington, D.C. "Between 1568, when the Ottomans and Russians first clashed, and the end of the Russian Empire in 1917, the Turks and Russians fought over a dozen large-scale wars. In each encounter, Russia was the instigator, and in most cases the overall victor. . . . Many Turks are woefully aware of Russia's role as their country's historical nemesis."
Early on, Putin and Erdoğan were not at all close. In 2015, Turkey shot down a Russian fighter jet that had entered its territory. Analysts feared an escalation. Instead, Putin and Erdoğan calmed the situation. 
When Erdoğan crushed a coup attempt on July 15, 2016, Putin was the first world leader to call and congratulate him. The two subsequently met in St. Petersburg and a friendship was born.
By 2017, Erdoğan had signed a $2.5 billion deal with Putin to buy the S-400 antiballistic missile system, the most state-of-the-art defense artillery in the Russian inventory. Vehement U.S. objections did not dissuade Erdoğan, who saw no problem as a NATO member getting into bed with the Kremlin.
"Turkey is continuing its steady, dangerous march to the dark side," I wrote at the time. "Erdoğan entered office posing as somewhat of a moderate but is emerging as a radical Islamist and a serious and growing challenge to the U.S. and the West."
In November 2017, Putin, Erdoğan, and Iranian president Hassan Rouhani met in Sochi, Russia, for their first summit.
Six months later, the three met again in Ankara.
In September 2018, the three met for a summit in Tehran.
In February 2019, they met in Sochi again.
In September 2019, the three were back in Ankara for yet another summit.
In July 2020, Putin, Rouhani, and Erdoğan held a videoconference together, choosing not to meet in person due to the COVID-19 pandemic.
Ostensibly, the three were simply trying to solve the crisis in Syria. In fact, Putin was building a strategic alliance with two of the most dangerous regimes in the Middle East.
THE SULTAN RISES
To be clear, Turkey is a gorgeous country, rich in beauty, history, and culture.
I have been there many times to speak, attend conferences, and meet with leaders from all over the Muslim world. I have also enjoyed touring the land, from the ruins of Ephesus to the Byzantine bazaars and medieval mosques of Istanbul. Several times, I took my wife and four sons there to visit. We never once felt uncomfortable, much less in danger, as Americans, as Christians, or as Jews.
To understand why Turkey is changing so rapidly, it is critical to understand the rise of President Erdoğan.
First, a bit of context.
For more than six hundred years, a succession of sultans ruled a regional superpower known as the Ottoman Empire, a kingdom (or caliphate) with vast wealth and great military strength. At the empire's zenith, the Ottomans controlled more than one million square miles on three continents, including the countries we know today as Turkey, Greece, Bulgaria, Egypt, Hungary, Macedonia, Romania, Jordan, Israel, Lebanon, Syria, parts of the Arabian Peninsula, and the coastal regions of North Africa.
By the end of World War I, however, the Ottoman Empire had been defeated by the British-American alliance. In 1923, Mustafa Kemal—a Turkish general who had helped remove the last sultan and led a revolution to liberate his country—founded the modern Republic of Turkey. 
Elected its first president, Kemal built it into a pro-Western, pluralistic democracy respectful of its Muslim heritage yet decidedly secular in its governance and military ranks. As his reforms succeeded in rebuilding the humbled nation, Kemal's popularity grew. People began calling him Atatürk, meaning "Father of the Turks," and the moniker stuck.
Mustafa Kemal Atatürk died in 1938, but his vision had taken hold. Turkey emerged over the course of the twentieth century as a rare model for Muslim reformers. By 1952, Turkey was welcomed into the NATO alliance. It became a destination of choice for European tourists and even for Israelis, who flocked to Turkey's southern beach resorts for inexpensive yet lovely and even luxurious vacations.
Not anymore.
"Whereas Atatürk . . . envisioned Turkey as European, Erdoğan has pivoted the country toward the Middle East and often practiced Islamist solidarity in foreign policy to make Turkey a great regional power," writes Soner Cagaptay, the Turkish analyst a mentioned a moment ago, in his 2017 biography of Erdoğan, The New Sultan: Erdogan and the Crisis of Modern Turkey. 
"Across the Middle East, Erdoğan [threw] his support exclusively behind the Muslim Brotherhood," the region's original and largest Islamist movement, and "amassed powers sufficient to undermine Atatürk's legacy."
Born in Istanbul in 1954 to a lower-middle-class family, the young Erdoğan regarded himself as a pious Muslim. A New York Times Magazine profile noted that he "would practice his fiery rhetoric on abandoned ships, facing into the wind as he rehearsed his salutation: 'My sacred brothers, whose hearts beat with the excitement of a big future Islamic conquest. . . .'"
Erdoğan became convinced that the only way to restore Turkey to the right path was to enter politics and change the system from within. But to do so in such a highly secularized society, he would have to hide his true beliefs. He began by transferring from a religious high school to a secular public high school to build a more mainstream résumé, even while quietly joining an Islamist study group committed to weaponizing Muslim religious doctrine to achieve political objectives.
In 1994, Erdoğan finally achieved his first victory, and it was a stunning one: He was elected mayor of Istanbul, Turkey's largest city.
Reflecting the nation's commitment to secularism, Erdoğan, ever the pragmatist, wore suits, not clerical robes. His wife did not wear a headscarf in public. He stayed focused on improving the "buses, rubbish collection, pollution, [and] water," not trying to impose Sharia law.
In 1997, however, he let his mask slip.
At a political rally in a poor, highly religious community in southeastern Turkey, Erdoğan recited an Islamist poem to fire up the crowd.
The mosques are our barracks,
the domes our helmets
the minarets our bayonets,
and the faithful our soldiers.
And he didn't stop there. 
In his speech, as reported in the New York Times Magazine, "Erdoğan went on to proclaim that Islam was his compass and that anyone who tried to stifle prayer in Turkey would face an exploding volcano."
In "playing to the crowd," Erdoğan was "prodding the military. And the military took the bait. Erdoğan was charged with inciting hatred on the basis of religion and convicted."
As Time magazine reported, Erdoğan "served four months in prison and was barred for life from public office."
To closet Islamists all across Turkey, Erdoğan was now part martyr, part hero, and his popularity surged.
Stay tuned for part two of this profile.