Saudi crown prince tells The Atlantic, 'We don't look at Israel as an enemy, we look to them as a potential ally' — yet bizarrely the magazine didn't publish the quote
How, then, do we know that the future Saudi monarch wants to make peace with the Jewish state? ALL ARAB NEWS explains
by Joel C. Rosenberg | March 4, 2022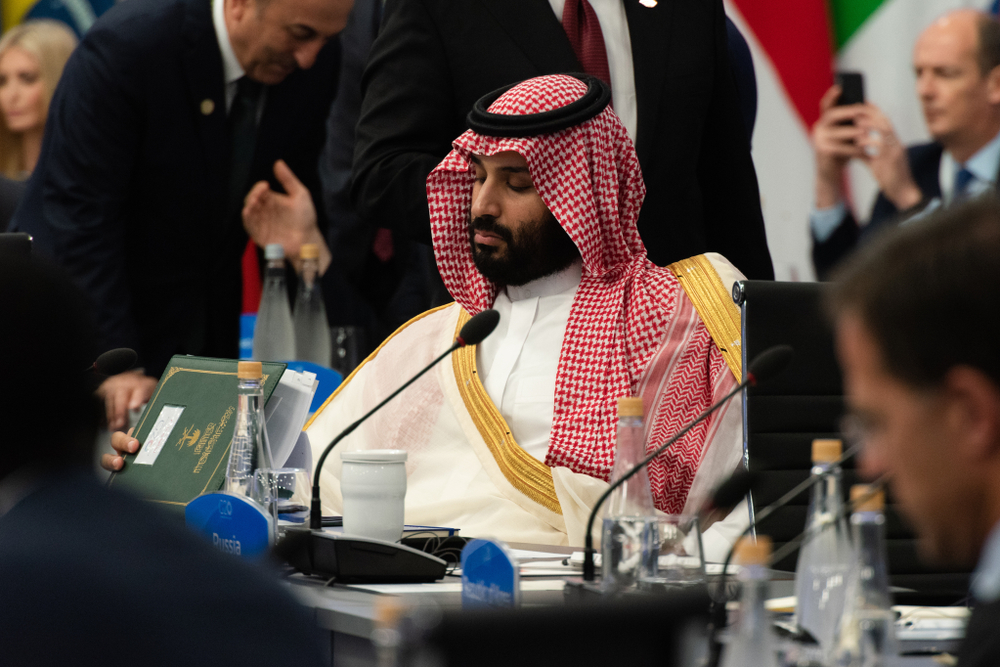 The Crown Prince of the Saudi Arabian throne, Mohammad bin Salman, is seen during the G20 meeting, November 20, 2018. (Image: Shutterstock)
The Atlantic magazine just published a long, detailed and fascinating profile of Saudi Crown Prince Mohammed bin Salman (MBS) in its April edition, one absolutely worth reading, whether you agree with everything in the article or not.
The feature-length story by reporter and Mideast expert Graeme Wood is based on two separate sit-down interviews that the future Saudi monarch gave to Wood and Jeff Goldberg, the magazine's editor-in-chief.
"WARM, INTELLIGENT….BUT WEIRD"
The article covers a lot of ground, from how MBS views the Biden ban on interacting with him to the progress MBS feels he's making on his Vision 2030 reforms to a wide range of human rights issues, including the continuing international fallout from the murder of Jamal Khashoggi.
"In our meetings, the crown prince was charming, warm, informal, and intelligent," Wood writes at one point. "But even at its most affable, absolute monarchy cannot escape weirdness."
"For our first meeting, MBS summoned us to a remote palace by the Red Sea, his family's COVID bunker. The protocols were multilayered: a succession of PCR tests by nurses from the Royal Clinics; a Gulfstream jet in the middle of the night from Riyadh; a convoy from a deserted airstrip; a surrender of electronic devices; a stopover at a mysterious guesthouse visible in satellite photos but unmarked on Google Maps. He invited us to his palace at about 1:30 a.m., and we spoke for nearly two hours."
"For the second meeting, in his palace in Riyadh, we were told to be ready by 10 a.m," Wood continued. "It also began after midnight."
In another part, Wood writes of MBS, "He tries to limit his Twitter use. He eats breakfast every day with his kids. For fun, he watches TV, avoiding shows, like House of Cards, that remind him of work. Instead, he said without apparent irony, he prefers to watch series that help him escape the reality of his job, such as Game of Thrones."
MOST DRAMATIC QUOTES WERE ABOUT ISRAEL, BUT…..
Yet the most intriguing portion of the two interviews — and the section that is (and should be) making the most headlines, especially in Israel — is the portion that The Atlantic did not actually publish.
MBS said on the record that he sees Israel not as an enemy but as a "potential ally" and indicated that he would, in fact, like to make peace with the Jewish state.
True, MBS also says he wants Israel and the Palestinians to make peace.
Still, his willingness to say openly that he sees Israel not just as a peace partner but a "potential ally" is a huge development.
Yet we know that MBS said this not because The Atlantic included the dramatic quotes — because they didn't — but because the Saudi Press Association made the full English transcript of the interview.
SO, WHAT DID MBS ACTUALLY SAY?
Here is the most important section of the transcript:
THE ATLANTIC: The Prime Minister of Israel just paid an open visit to Abu Dhabi. Do you think that Saudi Arabia might follow some of these other Arab nations in having an open relationship, diplomatic relations with Israel?
THE CROWN PRINCE: Well, the agreement between the GCC [Gulf Cooperation Council] countries states that no GCC country will take any action—political, security, economic action—that harms other GCC countries. And all GCC countries have committed to this.
Regardless of that, each country has independence to do whatever they want, based on their views, and they have a total right to do whatever they think that's useful for UAE. 
For us, we hope that the conflict between the Israelis and Palestinians [will be] solved. 
We don't look at Israel as an enemy.
We look to them as a potential ally, with many interests that we can pursue together.
But we have to solve some issues before we get to that.
WHY DID THE ATLANTIC BURY THE LEDE? 
What MBS said to The Atlantic is very encouraging.
Huge, actually.
As best as I can tell, these are the first on-the-record comments that he has made about the Abraham Accords at all, much less to Western reporters.
Even more encouraging is that the official Saudi government news agency published the entire transcript in English, including these quotes about Israel.
Why The Atlantic didn't publish the quotes is odd.
Bizarre, actually.
I, for one, await an explanation from Goldberg and Wood.
Why exactly did they bury the lede — edit out the lede, entirely, in fact?
Why did they let the Saudis scoop them on such an important story?
Something here doesn't make sense.
Today in The Atlantic: @gcaw with Crown Prince Mohammed bin Salman's first interview with non-Saudi press in two years. Plus @amandamull on the never-ending subscriptions, and nine movies by Ukrainian filmmakers to watch. Read it all: https://t.co/aMVh6HcwaH pic.twitter.com/osGhr4YsPS

— The Atlantic (@TheAtlantic) March 3, 2022