Saudi crown prince to ask Wall Street for $500 billion to fund the future mega city 'Neom'
MBS representatives will meet with Manhattan investors, bankers and construction suppliers to help kick start the mega-project on the Red Sea
by Tal Heinrich | March 8, 2022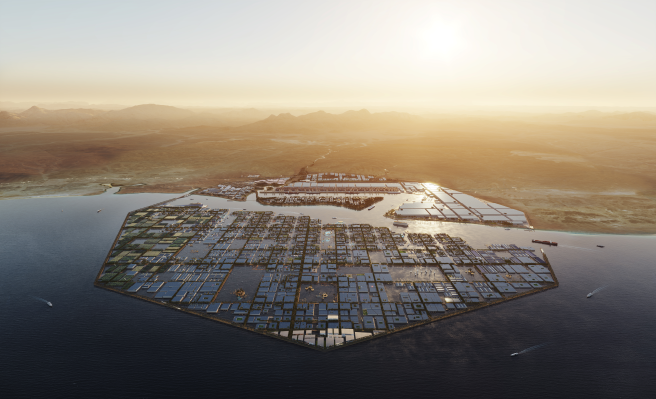 Rendering of OXAGON, part of the NEOM project, designed to be the largest floating industrial complex in the world (neom.com)
Saudi Crown Prince Mohammed bin Salman is turning to Wall Street to help fund his mega-project, known as the future city Neom. 
Manhattan private equity firms, bankers and construction suppliers received an invitation from MBS representatives on Monday to a meeting in New York next month.
According to a copy obtained by Bloomberg, Saudi executives are hoping to drum up interest in the $500 billion project from investors at the gathering. 
The invitation reads: "Explore and discuss the significant market opportunities Neom represents and discuss how we can support your business plans through meaningful partnership and investment opportunities."
Neom's chief executive Nadhmi Al-Nasr and finance sector head Layth Al-Shaiban are scheduled to attend the event. It is expected to be part of a series of similar events in multiple American cities.
Saudi Arabia announced its plans to build the futuristic mega city from scratch in 2017. Neom will be located in the desert bordering the northwest coast of the Red Sea in the Saudi province of Tabuk, and will span from the kingdom's borders with Egypt and Jordan. 
The high-tech hub is expected to be 33 times the size of New York City or the size of Belgium. Its "unique vision of urban design," according to the invitation, includes a blueprint for a car-free city, an industrial complex that floats on the Red Sea and a mountain ski resort with an artificial lake – all powered by renewable energy. If all goes according to plan, construction will conclude in 2025. 
Neom is considered the flagship project of MBS' "Vision 2030" – a strategic plan to overhaul the Saudi economy from its dependency on the oil industry.  
Saudi Arabia's efforts to attract foreign investment in the futuristic project comes more than three years after the brutal murder of Jamal Khashoggi, a journalist and Saudi government critic. The incident fractured the kingdom's reputation and its ties with several western countries, including the United States. 
President Biden vowed to take a hardline approach towards the Saudis and even referred to them as "pariah" during the 2019 Democratic debate. In recent weeks, however, due to the Russian invasion of Ukraine and increasing energy prices – the Biden administration has been making overtures towards the Saudis in an attempt to convince them to pump more oil and reduce prices.