Saudi, Emirati leaders refuse Biden's phone calls as US bans Russian energy imports
A new front of the Cold War has developed – strained relations between the U.S. and Saudi Arabia, UAE could impact American oil supply
by Nicole Jansezian | March 9, 2022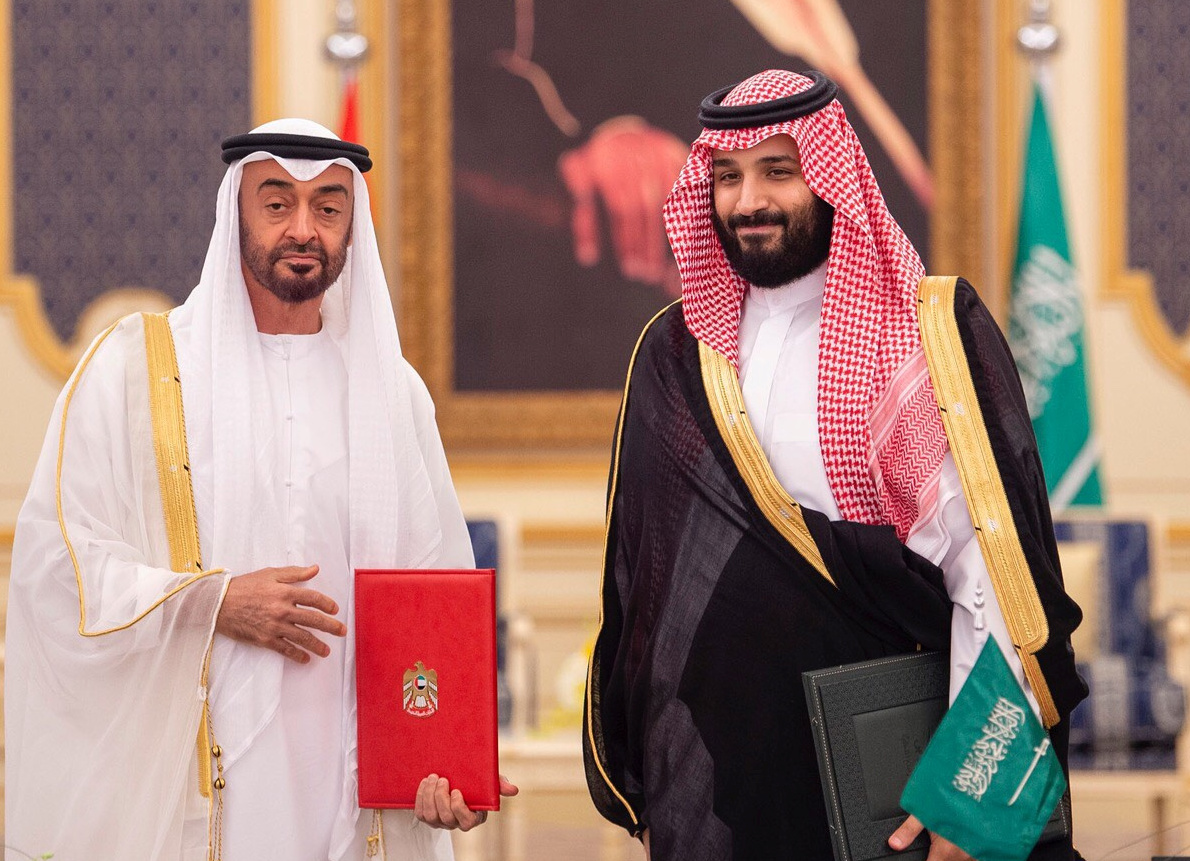 Abu Dhabi's Crown Prince Sheikh Mohamed bin Zayed al-Nahyan and Saudi Crown Prince Mohammed bin Salman during the Saudi-UAE Summit in Jeddah, June 6, 2018 (Photo: Bandar Algaloud/Courtesy of Saudi Royal Court/Handout via Reuters)
Saudi Arabia and United Arab Emirates leaders are not taking U.S. President Joe Biden's phone calls.
According to a report in The Wall Street Journal, both nations – who are U.S. allies in the Gulf – have rebuffed calls from the American president for weeks now and are refusing to boost oil exports in order to offset rising prices linked to Russia's invasion of Ukraine.
Biden announced on Tuesday that he would cut off all Russian energy supplies in the latest and stiffest sanction yet on Russia since the invasion of Ukraine two weeks ago.
This is no wonder after the particularly antagonistic approach that Biden has taken toward Saudi Arabia. During the presidential campaign, Biden said he considered Saudi Arabia a "pariah" state with "very little social redeeming value in the present government."
But now, with gas prices set to soar in the U.S. after the Russian supply is cut off and with no clear domestic alternatives – and as a nuclear deal with Iran is imminent – Saudi Arabia and other Sunni Gulf states have never been so crucial to the United States.
Here's what the WSJ reported:
Saudi Crown Prince Mohammed bin Salman (MBS) and the U.A.E.'s Sheikh Mohamed bin Zayed al Nahyan (MBZ) both declined U.S. requests to speak to Mr. Biden in recent weeks, the officials said, as Saudi and Emirati officials have become more vocal in recent weeks in their criticism of American policy in the Gulf.

"There was some expectation of a phone call, but it didn't happen," said a U.S. official regarding the planned discussion between the Saudi Prince Mohammed and Mr. Biden. "It was part of turning on the spigot [of Saudi oil]."
Both Prince Mohammed and Sheikh Mohamed did take calls from Russian President Vladimir Putin last week, the newspaper reported.
Under former President Donald Trump, relations between the U.S. and Saudi thrived. And, it was during this time that the UAE normalized relations with Israel – a deal brokered by the Trump administration. The geopolitical shift in the Middle East was based on pitting Iran as the common enemy of the Gulf states, the U.S. and Israel.
The Biden administration instead is pressing ahead to revive a nuclear deal with Iran and has removed the Iranian-backed Houthis – at war with Saudi Arabia – from the state terror list. The UAE has also been targeted by the Houthis in recent weeks.
Now, the U.S. is appealing to Saudi Arabia and the UAE to make up for the loss in Russian supplies – however, both nations refused to pump more oil and will instead stick to OPEC protocols.
UAE Ambassador to the U.S. Yousef Al Otaiba admitted that relations were strained.
"It is like any relationship," he said. "It has strong days where the relationship is very healthy and days where the relationship is under question. Today, we're going through a stress test, but I am confident that we will get out of it and get to a better place."
In its quest to import oil – because Biden canceled America's own Keystone XL Pipeline on his first day in office – the U.S. has also reached out to Venezuela, another member of OPEC and an ally of Russia, about the possibility of easing sanctions. This engagement with Venezuelan President Nicolás Maduro is another reversal in U.S. policy and is widely seen as a bid to woo Caracas away from Russia after Trump had slapped heavy sanctions on the South American country, citing human rights abuses and political repression.
A few days before Biden announced his ban on Russian oil, OPEC Secretary General Mohammad Barkindo told reporters that Russian oil exports cannot be replaced. Russia alone accounts for 7% of the global supply.
"There is no capacity in the world that could replace 7 million barrels per day," he said.
"We have no control over current events, geopolitics, and this is dictating the pace of the market," he said.