Was what happened in Jordan an attempted coup – or an attempt to silence internal critics?
New recording suggest that Jordanian authorities tried to silence Hamzah for meeting with senior domestic critics
by All Arab News Staff | April 6, 2021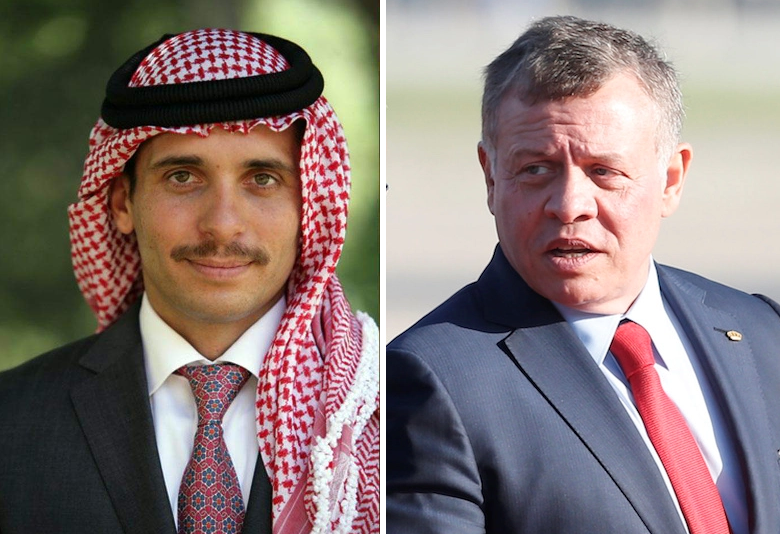 Prince Hamzah bin Hussein (Photo: Flickr via Wikimedia Commons) and Jordan's King Abdullah II (Photo: REUTERS/Muhammad Hamed)
Jordanian authorities recently detained former Crown Prince Hamzah bin Hussein and 20 other officials for allegedly plotting a coup against King Abdullah II. However, new information emerging from the Hashemite Kingdom of Jordan is casting serious doubt on the coup story.
A newly released audio recording suggests that Jordanian authorities tried to silence Hamzah for meeting with senior domestic critics, including the Jordanian military chief of staff Gen. Yousef Huneiti. The deteriorating family feud between King Abdullah and his half-brother Hamzah, who is an outspoken critic of the king, is only the latest example of tribal loyalties clashing with other interests in the conservative Arab world.
In the recording, the army chief is reportedly heard saying that the crown prince was punished due to meetings with people who "started talking more than they should." The recording also captured the candid response of the angry prince Hamzah:
"You come to me and tell me in my house what to do and who to meet in my country and from my people? Are you threatening me? You come to my house and tell me you and security leaders are threatening me? Not to leave your house, only go to your family and don't tweet?"
If true, it would reveal rarely displayed senior dissent against the Jordanian king's rule.
Hamzah had reportedly been placed under house arrest for allegedly plotting with foreign allies to destabilize the rule in Jordan. The royal palace in Amman initially accused Hamza of being involved in a "malicious plot" against the king. However, Hamza has flatly denied the accusation. He insists that he was merely criticizing mismanagement and corruption in the country.
Jordanian authorities announced on Monday that successful mediation had reportedly deescalated the feud after Prince Hassan, the king's paternal uncle, had met with Hamzah. Crown Prince Hamzah reportedly affirmed loyalty and the king reportedly accepted the mediation.
"I will remain… faithful to the legacy of my ancestors, walking on their path, loyal to their path and their message and to His Majesty," stated a letter signed by Hamzah and quoted by the royal palace in Amman.
The letter also contained a specific passage promising loyalty towards the king.
"I will always be ready to help and support His Majesty the King and his Crown Prince."
While it is still unclear whether the mediation was truly successful, and whether Hamzah's letter was genuine, the family drama constitutes one of the most serious political crises in Jordan in many years.
A decade after the Arab Spring swept across the region and destabilized several Arab regimes, Jordan remains a comparatively stable country in a chronically turbulent Middle East.
However, Jordan's fragile position and a history of attempts by the PLO and others to undermine the country's sovereignty, has made the Jordanian royal family nervous and suspicious of any form of dissent that could challenge its rule. Jordan is considered a crucial Western ally in the Middle East, which signed a peace agreement with neighboring Israel in 1994.