With trial of 'sedition' plotters set to begin in Jordan, Washington Post cites ALL ISRAEL NEWS report in lengthy story on 'palace intrigue' in the Hashemite Kingdom
Columnist David Ignatius, drawing on Jordanian and US intelligence sources, argues Trump team, Saudis sought to undermine King Abdullah II – disturbing story, but is it true?
by All Arab News Staff | June 16, 2021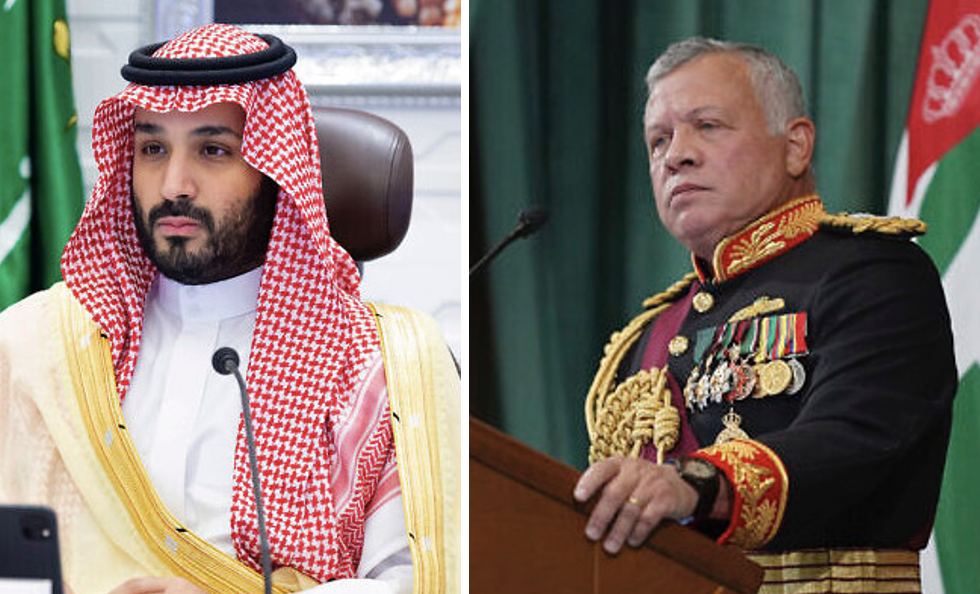 Saudi Arabia's Crown Prince Mohammed bin Salman (Photo: Bandar Aljaloud/Saudi Royal Palace), Jordan's King Abdullah II (Photo: Yousef Allan/The Royal Hashemite Court)
According to indictments released this week, Jordan's Prince Hamzah hoped to overthrow King Abdullah II with the backing of Saudi Arabia.
While Hamzah – the king's half-brother – is exempt from prosecution, two high-profile defendants with ties to Saudi Arabia – Bassem Awadallah, an advisor to Saudi Crown Prince Mohamed bin Salman, and Sharif Hassan bin Zaid, a former special envoy to the kingdom – are expected to stand trial next week and face up to 20 years in prison if found guilty.
On April 3, Jordan's public security forces made a series of arrests in the suspected coup attempt. Hamzah, the former crown prince and the king's half-brother, was placed under house arrest until the investigation was completed.
In a video he made during his detention, Hamzah denied that there was any external interference. Riyadh has also denied any involvement.
But the indictment is painting a different picture. 
"Prince Hamzah was determined to satisfy his personal ambition to rule, in violation of the constitution and Hashemite custom. To succeed, he sought to exploit the concerns and problems of the population and to arouse sedition and frustration in society," the indictment reads.
Charges against Hamzah were resolved after he swore allegiance to King Abdullah II and the Hashemite family.
Following the April incident, the United States and Saudi Arabia expressed their support for Jordan.
But in a piece in The Washington Post, David Ignatius contends that tensions within Jordan and between the Hashemite Kingdom and Saudi Arabia had been brewing for years and were exacerbated by former U.S. President Donald Trump who was pushing, he reports, for Jordan to cede control over Muslim and Christians sites in Jerusalem to Saudi Arabia. 
He writes that a Saudi-Israel peace deal never materialized as part of the Abraham Accords "because Jordan's King Abdullah II would not bend to pressure and make concessions on the status of Jerusalem and other issues affecting the Palestinians," according to various reports he cited in the article.
It all centered on Jerusalem. 
In his report, Ignatius quotes a source that says Awadallah "was working to promote the 'deal of the century' and weaken Jordan's position and the King's position on Palestine and the Hashemite Custodianship of Islamic and Christian holy sites in Jerusalem."
Ignatius reconstructs the events of the region – pieced together by several international intelligence officials – and their subsequent impact on Jordan since Trump began pushing for peace deals between Israel and Muslim nations in the region. 
The ultimate aim was to bring in Saudi Arabia. And as Trump was currying favor with MBS, Jordan was not budging on the Kingdom's position as custodian of Jerusalem's Muslim holy sites.
"Awadallah complained to an American former intelligence officer about MBS's frustration. 'A sticking point for us is al-Aqsa. The king [Abdullah] uses that to browbeat us and keep his role in the Middle East,' Awadallah said, according to the American former official. At another point, the former official says, Awadallah had stated: 'MBS is upset because he can't get a deal because he can't handle the reactions of Palestinians if the king holds his position on Jerusalem.'"
Then Israel entered the picture. Ignatius cites an article we reported on our sister site, ALL ISRAEL NEWS. Defense Minister Benny Gantz was so concerned about "the deterioration in Netanyahu's relationship with King Abdullah that he made a secret visit to Amman to reassure the king in early 2021, according to an article in ALL ISRAEL NEWS."
"I think Jordan is a great asset to Israel. … Unfortunately, Netanyahu is an unwanted figure in Jordan and his presence harms the advancement of relations," Gantz said later in a Zoom call with supporters.
Though Israel and Jordan have an official peace deal, relations between the two countries have not been warm. However, they are stable and their border is not as tense as the ones Israel shares with Lebanon in the North and Gaza in the South.
Nevertheless, according to the investigative report that Ignatius quotes, the alleged coup plot continued after this secret visit by Gantz and days after our ALL ISRAEL NEWS report, Jordanian law enforcement started making the arrests.  
Now, with the coup attempt averted, a new American president in the White House and Netanyahu out as prime minister in Israel, Amman is hoping for better fortunes in the days ahead. The Biden administration has taken a decidedly negative approach to Saudi Arabia compared with Trump. But perhaps the beginning of the sedition trial next week and King Abdullah's expected to visit to Washington later this month indicate a more stable period for the Kingdom.